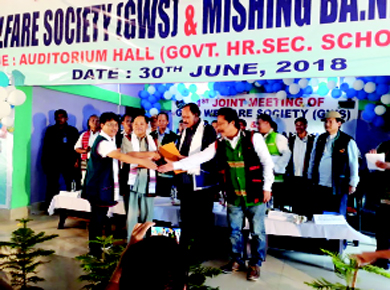 LIKABALI, Jun 30: In a significant development aimed at curbing conflicts and tensions between the Galos of Lower Siang district and the Misings residing along the Assam-Arunachal Pradesh interstate boundary in Dhemaji district of Assam, both the communities' apex bodies, the Mising Bane Kebang (MBK) and the Galo Welfare Society (GWS), have inked a peace agreement called 'Likabali Declaration.'
Founded on the agreement that the Misings and Galos share a common ancestor, the Likabali Declaration has as its first point an agreement between the MBK and the GWS to constitute a Galo-Mising coordination committee.
The committee, which will have its own president and general secretary on rotational basis, would sort out any dispute between individuals of both communities residing along the interstate boundaries.
The sorting out of disputes would be through dialogue and without/minimal interference from the administration.
That aside, the committee would also act as a medium for promoting brotherhood and cultural exchanges and facilitate joint celebration of Ali Aye Ligang and Mopin, promote trade and commerce along the interstate boundary, and further facilitate the formation of a research and development committee to explore and propagate the rich cultural and ancestral history of the two communities.
Another significant point in the Likabali Declaration is the agreement between the two communities' representatives to mutually recognize and respect the land and property possession rights.
Both sides agreed that there would be no act of trespass or encroachment henceforth.
The Likabali Declaration also calls for both the GWS and the MBK to uphold the decisions taken in the meeting held at Gogamukh on 13 June, wherein it was agreed that the GWS and the MBK would come to the aid of each other's community members and protect each other from prejudice and discrimination in their respective areas of authority.
The GWS was represented by its president Dr Mitum Boje and general secretray Dr Minge Loyi, while the MBK was represented by its president Paramananda Chayengia and general secretary Raju Medok.
The Likabali Declaration also attained political significance and approval with endorsement from the elected lawmakers of both sides: Jonai-Dhemaji MLA Bhuvan Pegu for the MBK, and Nari-Koyu MLA Kento Rina and Likabali MLA Kardo Nyicyor for the GWS.
Endorsing the move by the GWS and the MBK, the lawmaker trio in their speeches expressed hope that the coming together of the two communities in pursuit of peaceful coexistence would set a positive trend and become a model for others to emulate.
To commemorate the day, the legislators and executive members of the GWS and the MBK later planted saplings in the premises of the government higher secondary school here.
It is pertinent to add here that Saturday's meeting was in continuation of the peace effort initiated at Dirpai, Gogamukh on 13 June after a skirmish between the Galos of Hime village and Misings of Dirpai on 7 June.
Several prominent public leaders along with general masses from both communities attended the meeting in large numbers.