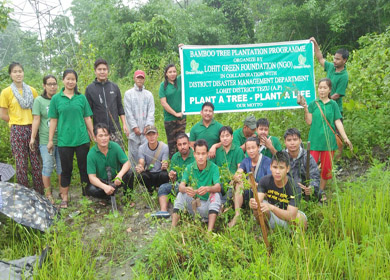 TEZU, Jun 30: Members of NGO Lohit Green Foundation (LGF) in collaboration with the Lohit disaster management cell organised a bamboo plantation drive on the right bank of Tezu Nallah in Khoraliang village on Saturday to stop soil erosion and check flood menace in the area.
As many as 250 bamboo saplings were planted during the drive.
Lohit DDMO Damchin Norbu appealed to the LGF team to carry out such plantation programmes in all flood vulnerable locations of the district, and assured the disaster management cell's cooperation.
LGF chairman Krimso Tayang said the NGO is planning to organise more such activities soon to achieve the motto of 'Green Lohit, clean Lohit'.
In the next phase, the LGF and the disaster management cell will organise a plantation drive on the left bank of Tezu Nallah to protect Tezu township, the DC bungalow, the SP bungalow, and the circuit house, along with other important office establishments in the district headquarters.
A team of the Khane Multipurpose Cooperative Society Ltd of Anjaw district, led by its chairman Varsen Bellai also joined Sunday's programme.