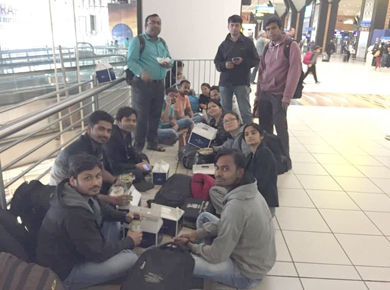 [ Nellie N Manpoong ]
ITANAGAR, Jul 2: Twenty members of the Indian team that had gone to attend the 3rd BRICS Young Scientists' Forum in Durban, South Africa, are stranded in Johannesburg since 30 June.
Young innovator from Arunachal Pradesh, Tadar Anang, is one of them.
Anang informed that the Indian contingent had left Durban on 30 June, on their way back to India, and arrived at Johannesburg on the same day.
Their originally scheduled Kulula Airlines flight from Durban had to be grounded because of a bird strike, and the passengers were boarded on another flight, making them miss their connecting flight to Abu Dhabi and New Delhi.
More trouble started brewing when the airline provided alternative tickets via Amsterdam, as the team does not have visas for Europe.
"We still have our tickets which have not been used because of the airline's own delay. Now they are trying to accommodate us on different flights, and since most of the flights are booked, our bookings are being rejected or bounced. The airline is providing us bookings which cannot be confirmed,"Anang informed.
However, the airline has made arrangements for their stay at the Hotel Protea for the time being.
The team also reached out to the consulate general of India in Johannesburg, and while they have been assured of a safe return, the members are yet to have their tickets confirmed.
"We had been assured that we would get tickets on 2 July, but there has been no update on it, so all we can do at this juncture is wait," Anang said.
He also informed that several persons in the team had job interviews lined up after the programme, which they may now have to miss because of the delay.
The Indian team has four members from the Northeast, including Anang.
Till the filing of this report, the young scientists were still in Johannesburg, although it is understood that their flight has been booked for Monday night.