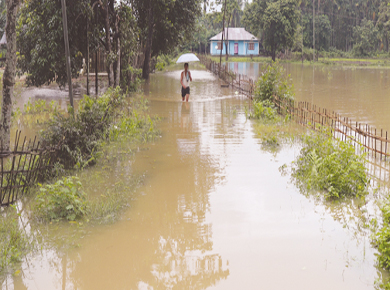 HOLLONGI, Jul 2: More than 14 houses in Hollongi Patila village in Balijan circle of Papum Pare district have been partially submerged due to heavy downpour. Water from Panka Nallah and the Hollongi river has reportedly inundated the area.
Local resident Jomo Uma said the villagers face the same situation every year.
"It causes severe loss of property, granary and other items, and hurts us economically," Uma said.
The situation has repeated itself this year, and several granaries, cattle sheds, agriculture and horticulture fields, and kitchen gardens have been submerged by the water of Panka Nallah.
Youth leaders Yowa Bullet and Taba Takar said the village is being flooded because the flow of Panka Nallah has been obstructed.
The duo demanded immediate action from the administration and the government, saying the villagers, especially the school-going children and women, are in danger as their houses are half-submerged and there is fear of people drowning.
Speaking to the media, local MLA and Environment & Forests Minister Nabam Rebia said he has already informed the NDRF team based in Hollongi about the situation, and has directed Papum Pare DC Dr Joram Beda to visit the area, assess the situation, and take necessary action.
Rebia said he would personally visit the area shortly.