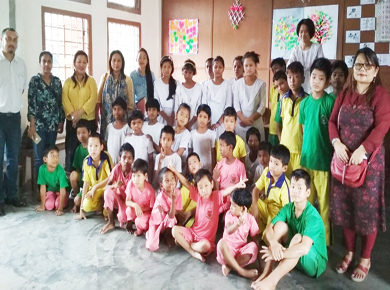 NAHARLAGUN, Jul 7: A team of the Capital Complex Child Welfare Committee (CWC), headed by its chairperson Kani Nada Maling, inspected the Child Care Institution (CCI) and the 'Sishu Greh' run by the Oju Welfare Association (OWA) to ensure proper care and protection of the children housed there.
During the visit, Maling, accompanied by member Oyam Binggep, inspected the records maintained by the OWA, and interacted with the children.
The CWC offered suggestions, such as putting cartoon stickers on the walls of the CCI and the Sishu Greh to create a child-friendly environment; placing a suggestion box; and displaying the food menu on a board.
It also directed the OWA to furnish copies of the individual care plan for each child to the CWC, so that the CWC and the Childline may follow up on the development of the children after they leave the children's home.
The team meanwhile commended the CCI for providing the best possible care to the children despite various challenges.