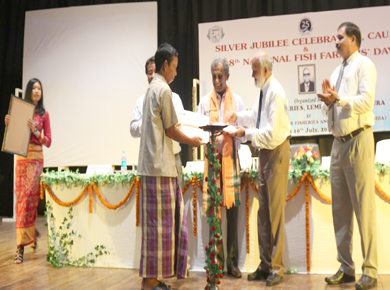 ITANAGAR, Jul 11: On the occasion of the 18th National Fish Farmer's Day on Tuesday, Chow Maha Munglang of Innao Khampti village under Diyun circle of Changlang district has been awarded as the 'Best Fish Farmer' from the state by the College of Fisheries (under Central Agricultural University, Imphal) Lembucherra, Tripura, in recognition of his contribution towards augmenting fish production in the state.
Munglang is one of the prominent progressive fish farmers of Changlang district. He started his venture in fish farming in 1994 with composite fish culture in a small pond of 0.1 hectare.
Currently, he has established a total pond area of 1.5 hectare and is practicing improved extensive fish farming of Indian Major Carps and exotic carps, producing table fish of 2,400 kg per hectare per year. Apart from this, he is also rearing 10 lakh fish fingerlings annually which earn him a net profit of Rs 8 lakh annually.
The state department of fisheries recommended and nominated his name for the 'Best Fish Farmer' award by the institute during this current financial year 2018-19.