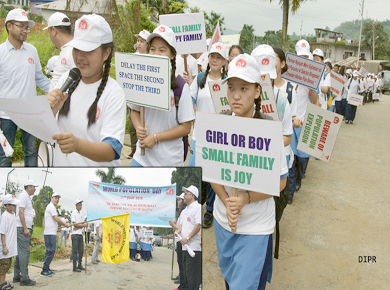 Arunachal observes World Population Day
ITANAGAR, Jul 11: World Population Day (WPD) was observed across Arunachal Pradesh with the theme "Ek sarthak kal ki shuruwat, parivar niyojan ke sath" on Wednesday.
The purpose of observing this day is to spread awareness and discuss issues related to population growth.
Addressing the gathering at the Vivekananda Hall, RKHM here on the occasion, Health and Family Welfare Minister Alo Libang advocated for small family as the key to prosperous life.
"Small family has many advantages. It is key to a prosperous life and high quality education for children, which ultimately leads to a better society," Libang said, and exhorted the students and youths to take responsibility to spread awareness about the benefits of a small family.
Calling for introspection, the minister said, world population should be as per the availability of space and resources, adding that the current population growth is faster than the socio- economic development at present.
Special Secretary cum Mission Director (NHM), Dr Tapasya Raghav said that the quality of life is affected due to rapid population growth.
"For a healthy society, there should be quality education, health, upbringing and all should get decent food. These are possible only through small family. Small families also help in empowering women. They have more time to pursue activities in their chosen field of interest instead of becoming child-bearing machines", Dr Raghav said.
Informing that the country has very low human development index in terms of education, health etc, Raghav called for mass awareness on adopting small family norms.
Family Welfare Director Dr Kabang Lego said overpopulation is detrimental for socio- economic development of the society, and appealed to the youths and students who consist of the major chunk of the society, to pass the message and create awareness about the benefits of small family.
Earlier, the health minister flagged off a rally taken out by the students, staffers of RK Mission and members of various bullet clubs from the Indira Gandhi Park here, which culminated at the Vivekananda hall of the RK Mission Hospital.
The programme was organised by the Arunachal Pradesh State Health Mission.
At Kimin, SDO J Padung highlighted on the importance of WPD and advised the people to take advantage of medical facilities and guidance that are being provided by the health department to have a happy and small family.
Papum Pare District Medical Officer Dr Subu Tasso Kampu advocated for adopting the two-child norm (Hum do, hamare do) for better life and called for availing the full benefit of contraceptive methods, which are provided free-of-cost by the health department.
She directed all medical officers, staffers, ASHAs and Aganwadi workers to generate more awareness on importance of family planning among the people, especially women, in remote areas of the district.
A procession was also taken out from Kimin market complex to CHC Kimin with slogans on combating the growing population.
At Doimukh, WPD was observed under the initiative of Doimukh DSDO Ibom Tao and Medical Officer in-charge Dr Lobsang Chuki. Health staff, ASHAs, Aganwadi workers, gaon burahs, students and public participated in the celebration.
World Population Day was also observed in various health centres, including Raga CHC in Kamle district in a befitting manner. The day was also observed at government higher secondary school in Raga in presence of DRCHO cum in-charge DMO Dr Kapu Sopin, Raga CHC health staff and ASHAs.
At Roing in Lower Dibang Valley district, DRCHO Dr R Mena explained about the free services available in all the health institutions and both permanent and temporary methods of population control provided by the health department on the occasion of WPD 2018.
He emphasized on full immunization of children and antenatal check-up (ANC) check up for mothers for better health. "Proper education and awareness is essential to check population growth and for all-round development of the family and society", Mena added.
DMEIO Dilip Deb also spoke on the occasion.
At Anjaw district, World Population Day fortnight (11-24 July) began with a rally organized by the district health society, in collaboration with Anjaw Vidhyapeet. To generate awareness among the youth, a bike rally was organized at Hayuliang Township. Series of other activities have been lined up for the fortnight. (DIPR/DIPROs)
Our correspondent adds: The World Population Day was observed by the staff of medical department at Pasighat, Ruksin and Mebo hospitals in East Siang district with awareness programmes.
Medical officers, nurses and health staff of the district took out a procession in the thoroughfare of various towns during the morning hours shouting slogans on the need of adopting various contraceptive measures provided by the health department for population control.
Sources from the health department in the district informed that a month-long awareness campaign will be organized at different rural areas to make the people aware on the various contraceptive measures provided by the hospitals for free.
The doctors urged parents to adopt family planning methods to control population growth, saying that population explosion would affect the country's economic growth.