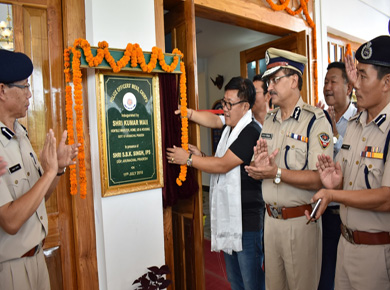 ITANAGAR, Jul 11: Home Minister Kumar Waii on Wednesday inaugurated the police officers' mess and walking track here at the Police Complex in Chimpu.
The officers' mess has been constructed by the Arunachal Police Housing & Welfare Corporation Ltd (APH&WCL). The project comprising officers' mess, three Type-V quarters, four Type-IV quarters and 32 Type-III quarters was approved in 2010 and has been funded through the Non-Lapsable Central Pool of Resources (NLCPR) scheme of Ministry of DoNER, Government of India.
The project cost was Rs 879.10 lakhs.
The mess will provide a secure and comfortable accommodation to police officers' visiting Itanagar for a short period of time. It will also cater to needs of officers of other police organisations and associated entities of the central government. Apart from the 12 rooms, the mess also has a gym, library, and a lounge.
The walking track, which is more than 700 m long, will benefit the police personnel and their families living at the Police Complex in Chimpu by providing a dedicated trail for walking and jogging around the police ground. The track has been constructed by the APH&WCL and has been funded through the Corporate Social Responsibility Funds of APH&WCL.
Director General of Police, SBK Singh and other senior officers of Arunachal Pradesh Police and APH&WCL were present on the occasion.