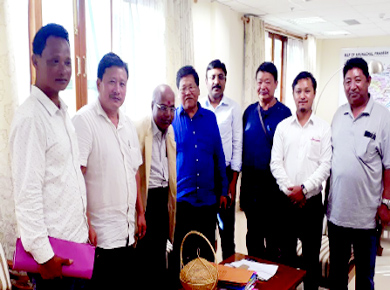 Staff Reporter
ITANAGAR, July 14: Members of the Trans-Arunachal Highway Compensation Deprived Forum, Yazali/Yachuli and Joram met Chief Minister Pema Khandu and Chief Secretary Satya Gopal on Friday, seeking re-verification of the Potin-Bopi stretch of the TAH.
The CM and the CS are reported to have given assurance that the re-verification process would be started soon.
Toko Teki, who was part of the delegation, along with Bengia Tolum and others, said the chief secretary assured the team that all those found guilty in the TAH compensation scam would be arrested soon.
The Potin-Bopi TAH land acquisition and subsequent disbursement of compensation by the district administration has run into controversy as several citizens refused to accept the compensation amount, stating that it was unfair.
Currently, two former officials of the Lower Subansiri district administration – including former DC Kemo Lollen – and businessman Likha Maj are under the custody of the SIC for their alleged involvement in gross irregularities in the matter of payment of compensation against the Joram-Koloriang TAH project.
They were arrested on 3 July. Their fresh bail petitions were rejected on Saturday by the special court in Yupia, and they have been placed under two days' police remand.
Rs 40 crore had been sanctioned for the construction of the Joram-Koloriang stretch of the TAH, funded by the Centre through its agency NHIDCL.