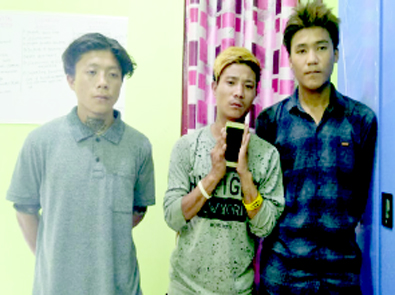 Staff Reporter
ITANAGAR, Jul 14: Three mobile phone snatchers were arrested within an hour of a complaint received at the Itanagar police station on Friday.
The Itanagar police unit informed that a student of the higher secondary school, Itanagar, lodged a verbal complaint that three youths on a black scooter had snatched his Samsung mobile phone from near the school and fled from the scene.
Without wasting time, a police team comprising Itanagar SDPO Kamdam Sikom, SI Surender Singh and DSP Moyir B Kamdak took swift action and arrested the trio from the Thupten Gyatseling Monastery area within an hour of the complaint and recovered the stolen mobile phone from their possession.
The police have identified the accused as Yuchak Tana, Tadar Rar and Rohan Tamang.
It was also found that the three arrestees are habitual offenders.
A case has been registered at the Itanagar police station under Section 392/34 IPC.