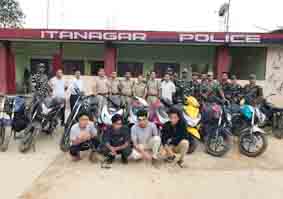 ITANAGAR, Jul 17: During an operation that began nearly a week ago, the police here recovered 11 two-wheelers and caught a juvenile involved in making forged documents.
According to police sources, the residents of Division-IV area nabbed three bike lifters on the morning of 10 July and found that the lifters were in possession of two stolen vehicles. The alleged bike lifters, identified as Subom Muchuhary (21), Bridhan Deomary (20) and Budo Ramchiary (21), were reportedly beaten up by the crowd and handed over to the Itanagar police station.
A case has been registered under Section 379 IPC against the three.
During interrogation, the trio revealed that they had stolen several such vehicles from the capital complex and used Hollongi as a hub to sell the stolen two-wheelers.
Capital SP M Harsha Vardhan then formed a team comprising DySP (P) Moyir Basar Kamdak, OC T Bage, IO ASI AK Jha and IRBn personnel, led by Itanagar SDPO Kamdam Sikom.
The team recovered three FZ bikes, one Pulsar 200 CC, four Ray-Z scooters, one Honda Dio scooter, and one R-15 bike from various locations in Hollongi, Gohpur, Tengabari and Daflagarh in Assam area.
Accused Deomari also informed the police of a shop in Yupia where all sorts of forged documents, such as registration certificates, driving licences and ILPs are made.
"They would get forged registration certificates made and provide them to customers on the pretext of selling genuine bikes with original certificates," informed the SDPO.
After two days of playing hide and seek, the police succeeded in nabbing the accused from the shop and seized four forged driving licences and six ILPs, besides fake stamps, two mobile phones and a CPU.
The accused, who was later found to be a juvenile, informed the police that he has been involved in making such forged documents for the past one year and has issued such documents to various customers.
The juvenile was handed over to his parents after the completion of legal formalities.
Meanwhile, the police detained one Tana Roy (19) with a stolen FZ bike from Gohpur area. Investigation is on to ascertain the owner of the bike.
SDPO Sikom informed that more vehicles are likely to be recovered soon, and alerted the people that "Hollongi has become a hub for thieves these days."
The SP also warned that strict action would be initiated against those found violating the laws and indulging in antisocial activities.
He urged the public to be vigilant and install CCTVs in their homes and shops, if possible, as it helps the police in many cases.