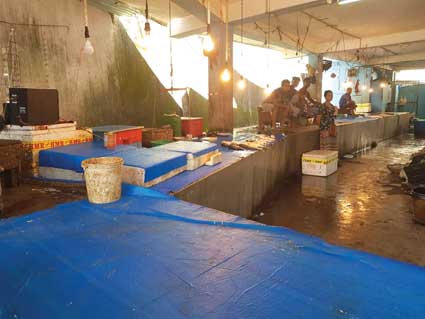 Fish ban hits markets
[Nellie N Manpoong]
ITANAGAR, Jul 19: The recent imposition of the ban on formalin-treated fishes and crustaceans (crab, lobster, shrimp, etc) has raised questions about whether the state government has the required equipment or technology to detect other harmful or banned chemicals in other food items as well, and about the impact such bans have on sellers.
On 11 July, Health Commissioner Dr AC Verma had issued an order for a statewide ban on formalin-treated fishes from outside the Northeast for a period of 30 days and thereafter till corrective measures are taken. Soon after, the district administration issued the ban in the capital complex region on 16 July. Reports of the ban from the districts are yet to come in.
Officials have clearly said that there is no ban on local fish and crustaceans coming from anywhere in the Northeast, and that they are safe.
Providing further information on the necessitated ban, Assistant Food Controller Lokham Manga said the food safety wing of the health department found about the formalin-laced fish during a routine check in early June. A sample of the mirka fish was sent to the State Public Health Laboratory in Guwahati, Assam, as Arunachal does not have the required laboratory, and the tests came out positive for formalin.
Formalin is a highly toxic preservative used to delay decomposition, and is not included in the list of preservatives permitted to be used in select food articles under the Food Safety and Standards (Food Products Standards & Food Additives) Regulations, 2011. It is also not permitted as additive in food under the Food Safety and Standards Act, 2006.
Formalin is considered to be a cancer-causing agent, and can create abdomen issues and other serious health issues.
Manga informed that about 18 to 24 thousand tonnes of fish and crustaceans come from Andhra Pradesh for distribution between Assam and Arunachal Pradesh.
"Both states have the same source of fish, and if Assam has detected formalin-treated items then there is high probability that Arunachal has received the same. But to be completely sure, we sent a batch for tests and it came out positive," said Manga, adding that it could have been detected earlier if the department had the testing equipment here in the state.
The state pays honorarium every few months to the laboratory in Assam for tests, and it has to be notified first before the samples are sent. It requires anywhere between one and three days to send the samples.
The laboratory is also required to send back the results within 14 days, lengthening the entire process.
While he maintained that the food safety wing, along with its 'food safety on wheels' laboratory, has the required equipment for detecting some adulteration, many tests still require notified laboratories and analysts for legal sample testing for imposing bans or legal action.
"An entire lot of fish or crustaceans cannot be considered to be chemically-treated if there is only one chemically-treated fish found; so we will conduct tests on four to five of the same batch to ensure safety of the consumers," Manga said.
India does not yet commercially manufacture formalin test kits, and four test kits are being brought in to the state from a Germany-based supplier in the next few days. Each kit can carry out about 100 tests.
As of now, Assam, Nagaland, Goa, Maharashtra and Kerala are some of the few states that have banned formalin-treated fish and crustaceans.
Meanwhile, the fish market here is suffering huge losses as customers have stopped buying even local fish. At the Akashdeep market, of the usually 10 fish vendors, only two were selling.
Local fish vendors here said their sales have gone down from over 400 fishes in a day to barely 60 in a day.
"People do not want to buy even the local fishes, fearing that they are chemically-treated. How do we explain that there is nothing wrong with the local fishes?" said a vendor.
The price of local fishes has also risen with the rise in price at the Laluk market in Assam. The vendors here have had to increase their rates from Rs 200 to nearly Rs 300 per kg of fish. This rise in price, they say, is because of the increasing demand for local fishes in Assam following the ban on fishes from outside the Northeast.
While this reporter was interacting with the vendors, a public announcement was made that the formalin-treated fish ban would be imposed for a month. Anyone violating the rules would have to pay a penalty of Rs 10 lakhs or serve a seven-year jail term, it was announced.
With times being hard, several vendors have gone back to their home states, planning to return when the ban is lifted.
"We hope that the officials come up with a solution soon. If other varieties of fish start selling again, we can also reduce our prices and go back to making our usual livelihood," said a vendor.