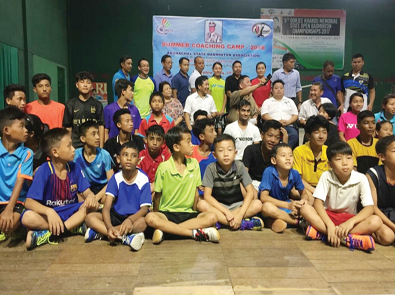 ITANAGAR, Jul 23: Young shuttlers currently undergoing the summer coaching camp themed 'Catch them young – 2018' for badminton met with Joint Commissioner Police (JCP) at the President's Secretariat (Rashtrapati Bhawan) Robin Hibu and other officers here on Monday.
Hibu advised the budding shuttlers of the state to maintain sports ethics and follow the advice and programmes of their coach to achieve their goals.
He highlighted that "sports has become an industry which now contributes to the economic growth of the country," and appealed to the youths and stakeholders, including parents, to opt for sports as a profession.
He noted that there is need to formulate systematic planning for coaching, training and participation, "in order to bring laurels to the state and country."
On behalf of the President of India, the JCP extended invitation to all the badminton players to visit Rastrapathi Bhawan.
He also spoke about the achievements of his daughters, Hibu Ana and Hibu Abyang – both black belt karatekas and champions for the last five years – and said they are also availing scholarships from the Delhi government.
The interaction programme was also attended by Sports Deputy Director Mala Linggi, who is the first lady NIS holder in badminton from the state, to encourage the promising players along with the parents of the trainees.
The coaching camp is being facilitated by the Arunachal State Badminton Association.