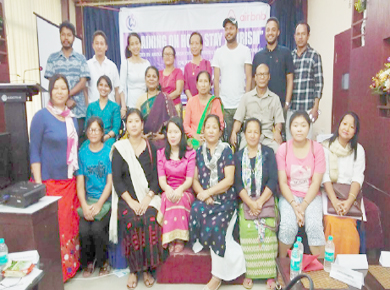 ITANAGAR, Jul 24: The Arunachal Pradesh State Commission for Women (APSCW) on Monday organized a training programme on 'homestay' for 10 selected women entrepreneurs at a city hotel here.
The programme was sponsored by the National Commission for Women (NCW) and Airbnb.
APSCW Vice-Chairperson Padmeswari Jamoh appreciated the initiatives taken by the NCW for empowering women in the state, and requested the women entrepreneurs to avail the benefit of the programme.
NCW Deputy Secretary Jyoti Singhal said the main motive of the programme was to empower the women to become economically self-dependent. She requested the Arunachal Pradesh tourism department to assist the women entrepreneurs.
"If women are not empowered, the nation cannot be developed," she said.
Airbnb India's public policy head Nayana Renu Kumar made a PowerPoint presentation on 'Communication with the tourists through website'.
Other resource persons from Airbnb spoke on the role of Airbnb in promoting benefits through homestay facilities.
Assistant Tourism Director Bengia Manna informed that there are 130 homestay facilities in Arunachal Pradesh. She said the state government is "taking initiatives for employment of women in the tourism sector," and requested the women entrepreneurs to get their homestay facilities registered with the tourism department.
APSCW Member Taba Rosy, Legal Advisor Yade Jeran and Member Secretary Yame Higio also attended the programme.