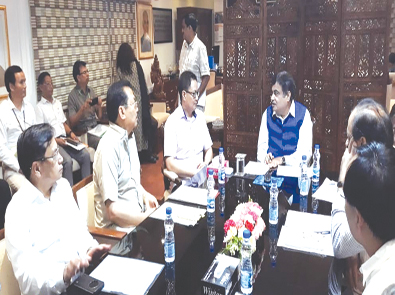 NEW DELHI, Jul 27: The Arunachal Pradesh government has sought help and intervention of the ministry of road, transport & highways (MoRTH) for early completion of the Potin-Pangin stretch of the Trans-Arunachal Highway (TAH) and various other road projects in the state.
Deputy Chief Minister (DCM) Chowna Mein, accompanied by MoS for Home Affairs Kiren Rijiju on Wednesday called on MoRTH Minister Nitin Gadkari here and apprised him of the deteriorating condition of the Potin-Pangin portion of the highway, and of the need for its early completion.
Mein reminded the union minister of the assurance given by the ministry during an earlier meeting this year to process the matter of package-wise sanctioning the project, "provided 80 percent land is made available having continuous length before the letter of award is issued for each package," according to a release from the DCM's media cell.
"The state PWD has already submitted the DPR for all the nine packages to the regional office in Itanagar," Mein said.
Mein also discussed with Gadkari the terminated Lalpul-Manmao-Changlang road project of the SARDP-NE, and raised the issue of the Longding-Tissa-Khonsa road.
Mein urged the union minister for early sanctioning of Packages B and C for the national highway (NH-415) from Itanagar to Banderdewa. The ministry agreed to consider package-wise sanctioning if the state government agrees to levy toll on commercial vehicles on this road.
Discussions were also held with regard to the 35 km Khonsa-Hukanjuri (NH-315A) double-lane road.
State WRD Minister Kamlung Mosang, Advisor to Chief Minister Wanglin Lowangdong, Principal Resident Commissioner Jitendra Narain Singh, and Chief Engineer (Highway Zone) Toli Basar were also present during the meeting.