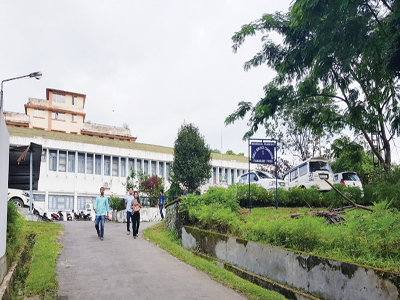 [ Nellie N Manpoong ]
ITANAGAR, Jul 29: The preliminaries of the Arunachal Pradesh Public Service Combined Competitive Examination (APPSCCE) were held across the state on Sunday under strict regulations in most centres, as reported by candidates and some invigilators.
Speaking to this reporter, several candidates outside the Arunachal Pradesh Public Service Commission (APPSC) exam centre and the government higher secondary school here said the first paper of general studies was considerably easier than their optional subject papers.
"The invigilators regulated everything in a much better way than the last time and the process felt fair. Also, there were rarely any repetitions of questions," a history candidate said.
"This time's paper mostly covered ancient and modern history, unlike the other times, and it was certainly tougher than the last time," he said.
After the preliminaries were held on 26 November last year, there were complaints from some candidates that the geography paper was extremely easy. However, some geography students informed that, while they could have easily scored higher in the last examination, it was very difficult this time.
"The last time I counted my marks, I could have easily scored over 170 in geography, but I might not even come close to 60 this time," said one candidate, adding that he now rests his hopes on the general studies paper as it was effortless for him.
Sociology, civil engineering, agriculture, political science, etc candidates also shared similar views and said their optional papers were much tougher than the last time.
Meanwhile, everyone appreciated the initiative of shutting down the internet services, as it assured them that no candidate was being assisted by anyone providing their services in the centres as invigilator or staff.
"The strategy of shutting down internet services was certainly a good idea," said an economics candidate.
Internet services were largely shut down from 10 am to 4 pm (the entire duration of both papers) in the district headquarters with examination centres, but there were also reports that internet services were available near the examination centres in some places while some areas did not receive internet services till after 5 pm.
However, officials assured that the exam centres themselves did not have any internet services during the entire duration.
Reports also came in from Pasighat, Ziro, Seppa, Namsai, and other places that the invigilators maintained the guidelines well. Almost all the examination centres prohibited mobile phone or watches within the boundaries of the centre's campus, and students were frisked well.
There is no foolproof way to ensure that there was not a single incident of misconduct, but most students were of the opinion that the APPSC managed to regulate the examination in a much better way this time. There have not been any serious complaints so far from the students themselves, but more will be revealed in the days to come.