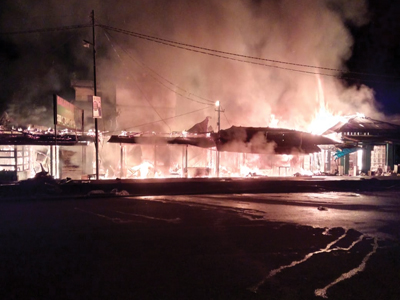 [ Karyir Riba ]
ROING, Jul 31: A huge fire broke out in the main market area here at around 8:30 pm on Tuesday, engulfing a number of shops in its way, spreading and growing rapidly, and making it impossible for the fire department to control.
The BRO is also assisting the fire brigade in fighting the flames, but to no avail so far. As per information, help has been called in from the fire brigades in Chapakowa in nearby Assam and Tezu in Lohit district, as the fire has gotten out of hand and is spreading rapidly.
The fire is spreading through an area of about 5000 sq mtrs within the perimeter of the roadway, which might just be able to stop it from spreading further into other parts of the market.
At the time of writing, there was no sign of the fire abating, and the fire brigade was still engaged in dousing the flames.
The cause of the fire is unknown as of now, and no casualties have been reported so far.