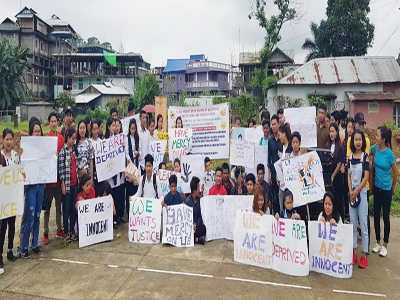 Scholarships scam
Staff Reporter
ITANAGAR, Jul 31: Students who were allegedly duped by M/s Yarkum Enterprise under the 'umbrella scheme of pre- and post-matric scholarship 2017-18' staged a sit-in at IG Park here on Tuesday, requesting the state and the central governments to reconsider their forms.
Saying that some of the scholarship amount has been dispersed and some selected candidates still need to submit Form-A to the social justice, empowerment & tribal affairs (SJETA) department by 10 August, the students pleaded with the state government to allow them to enroll their names within this timeframe and offer them a chance to avail the benefits meant for them.
"We would like to request the governor, the chief minister and other authorities concerned to reconsider our forms and not leave us helpless, as most of us are completely dependent on the scholarship amount," said Toko Takar, a student.
According to the receipt copies issued by M/s Yarkum Enterprise, the last serial number is 1948.
However, Consumer Rights Organisation (CRO) state unit president Achu Bagang informed that the accused in the scam have claimed to have taken the forms and collected money from 1370 students.
"Out of these forms, 120 were selected and 20 were rejected. The accused say that they do not know what happened to the rest of the forms," Bagang said.
Members of the CRO met with SJETA Director Yumlam Kaha and "found supportive documents and positive assurance," he said.
The CRO also wrote to the SJETA commissioner, requesting his office to consider the new scholarship forms of the deprived students; form a committee to enquire into the whole episode; and bring the scholarships scam to a logical conclusion.
The SJETA commissioner has in turn asked the director to examine the issue.
On Monday, the SJETA released the pre-matric and post-matric scholarships worth Rs 31,72,93,800.
There are 1607 pre-matric beneficiaries, and 10682 post-matric ones in the state. The scholarships were disbursed though the PFMS mode and directly transferred to the accounts of the beneficiaries.
The accused in the scam, Hillang Nima and Choki Raja, are in police custody in Naharlagun. Capital SP M Harsha Vardhan said the investigation is underway to uncover all aspects of the case.