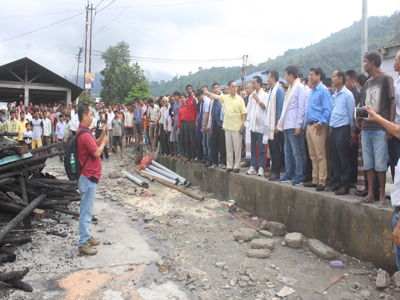 [ Karyir Riba ]
ROING, Aug 3: A high-level team of the state government visited the fire-ravaged market area here in Lower Dibang Valley district on Friday to take stock of the situation.
As per the district administration's assessment report, 36 commercial establishments in the lower market were destroyed and 17 shop owners were badly affected after the devastating fire that occurred on the night of 31 July.
The circuit house is currently housing all the affected families, under the administration's supervision.
The visiting team, comprising Education Minister Honchun Ngandam, Parliamentary Secretary Zingnu Namchoom and state BJP president Tapir Gao, urged the affected families not to lose hope.
"What has happened was very unfortunate, but what is important is that no life was lost and no one was injured. It is the time to be strong and to rebuild your lives again," they said.
They informed that they have handed over Rs 10 lakhs from the CM, Rs 5 lakhs from the DCM, and Rs 1.2 lakhs from their own ends as relief for the victims.
Deputy Commissioner Mitali Namchoom urged the families to be patient, and said reconstruction work would start after proper planning is in place, in order to avert such incidents in the future.
The affected families submitted a memorandum to the visiting team, seeking adequate relief fund and assistance from government to rebuild the market. They also sought the government's help in availing bank loans at a minimum interest rate to restart their lives.
Apart from the Rs 16.2 lakhs relief from the state government, the affected families received relief funds from several other sources.
Local MLA Mutchu Mithi made a personal contribution of Rs 5 lakhs as immediate relief for the shopkeepers, and has sanctioned Rs 50 lakhs from his MLALAD for procurement of building materials for the shop owners.
The district unit of the National People's Party handed over Rs 3.4 lakhs along with household materials to the affected families, and the Idu Mishmi Cultural and Literary Society contributed Rs 50,000.
The All Idu Mishmi Students' Union set up donation booths across the town and collected Rs 88,380 for the victims. The Roing Bazaar Committee also contributed Rs 1,74,480 along with materials.
Many others, like the GHSS Bolung and the district BJP are also in the process of collecting relief fund for the victims.