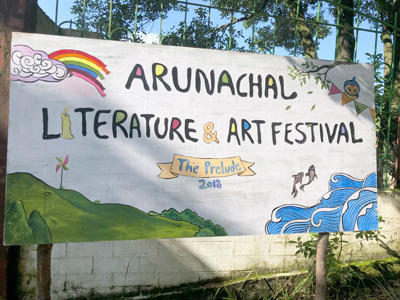 Staff Reporter
ITANAGAR, Aug 3: Over the next two days, young minds and artists will rendezvous at IG Park here to widen the horizons of their creativity as the Arunachal Literature & Art Festival (ALAF) – The Prelude gets underway on Saturday.
The festival is featuring 65 creative artists, writers and publishers.
"This is a festival by writers and artists for the people of Arunachal Pradesh, to open the doors of creativity and the
beauty of art and literature for them," ALAF director Karry Padu explained.
"The generation has forgotten about picking up a book, or a pen to sit down and write how they actually feel. They have forgotten to learn how to draw and express with the brush," Padu added.
"We are opening our gate to see us and meet us and be part of creativity, art. It is high time that art and creativity received a lot of support."
Padu said the festival would help make the potential of the state in literature and arts known to people near and far.
"It will also open the door to creativity and self-awareness by involving them in recreational events," she said.
The festival is also an effort to put Arunachal Pradesh on the literary map, and to make the state a destination for art and literature aficionados. It would also seek to introduce the artists and the people of the state to a wide range of new forms of art and literature from across the globe.
The festival will feature, among other things, a writers' panel discussion, a book fair, an art exhibition, an open mic poetry session, installation, and musical performances.