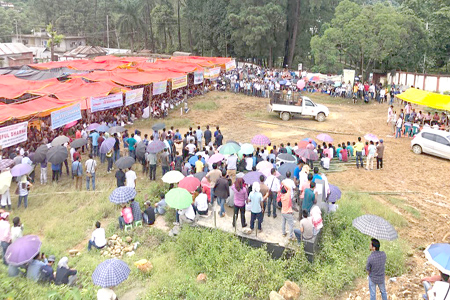 Staff Reporter
ITANAGAR, Aug 8: Thousands of government-run primary and upper primary schools were reportedly forced to shut down for a day, following the three days peaceful dharna against the state government by contractual teachers working under the Samagra Shiksha Abhiyan (SSA) here on Wednesday.
The teachers, under aegis of the All Arunachal SSA Teachers Association (AASSATA) have been demanding batch wise regularisation over the years.
Reportedly, 694 teachers including primary teachers (502) and trained graduate teachers (172) of the 2003 batch have been regularised so far. However, hundreds of others from the same batch are awaiting regularization.
The SSA teachers take care of over 2,030 primary schools and 1,003 upper primary schools across the state. The total number of teachers working under the SSA is nearly 6,850.
Some 3700 registered and joined the peaceful dharna today against the government.
Addressing the gathering, the dharna committee chairman, Techi Ekka Tara vowed that their "democratic movement would continue until their demands are met, even if the authorities arrest them for protesting".
The AASSATA lamented that though "the committee headed by the secretary education had submitted the framework and modalities for regularisation of SSA teachers after it was clearly mentioned in the Budget Speech-2018, the government is paying no heed towards their plight".
"The government has to find tangible mechanism to regularise in-service SSA teachers, or we will continue our democratic movement" said AASSATA president Tarak Agung Tarh.
The AASSATA president also held the state government responsible for letting the situation spill over, and said, "We also do not want to protest because it affects schools and children".
The AASSATA representatives had also called on Education Minister Hunchun Ngandam on 5 August, 2018 at his official residence.
Assuring to look into their issues, the minister had reportedly made a fervent appeal to the teaching community to call off the mass peaceful protest on Wednesday. However, his appeal created no impact on the agitating teachers.
"Enough of lip-service, we want action on the frameworks and modalities submitted by the committee" said Techi Bolo, AASSATA general secretary.
The AASSATA also stated that the state government should maintain a unified teaching cadre.
It was reported that Tawang district AASSATA unit could not participate in the ongoing dharna due to road blockade.However, they are staging a similar protest outside the office of the deputy director of school education at Tawang.