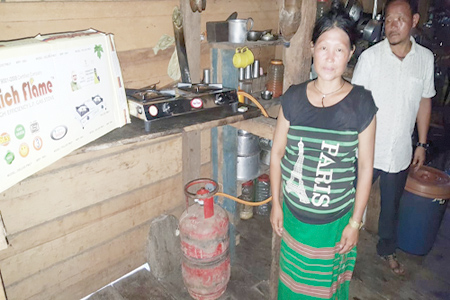 [ Dodum Yangfo ]
Sixty-year-old Yaja Brey of Richukrong giggled sheepishly as she lit an LPG stove for the first time in her life.
For generations, the households in Tallom Sima, a nondescript village in Richukrong circle of East Kameng district, have been dependent only on firewood to fuel their kitchen.
Homemakers Lame Docha (38) from Chambung Liyak and Mary Bayang (60) of Richukrong displayed similar emotion, for they know that they will not have to worry about collecting firewood now, especially during the rainy and farming seasons.
Thanks to the 'smokeless kitchen', the housewives and widows of Richukrong circle will not have to put up with irritation in their eyes by blowing into the traditional chowkas. Altogether 38 households were given new LPG connection under the Prime Minister's Ujjawal Yojana during a Jan Sunwai Sammelan: Sarkar Aapke Dwar programme held in Richukrong recently.
The villagers were all praise for Prime Minister Narendra Modi for the welfare scheme, and chief minister Pema Khandu for bringing the schemes right at their doorsteps. They also expressed their gratitude to deputy commissioner GS Rajawat – reportedly the first DC to visit all the villages under Rickhukrong circle – and Richukrong circle officer Pooza Sonam Natung for organising the sammelan successfully.
"It was hard for the villagers to visit Seppa even for basic things like obtaining a birth certificate or opening a bank account in the absence of a daily public transportation, due to poor road connectivity," Notung said.
During the sammelan, as many as 435 certificates including birth, ST, and PRC were distributed to the villagers, while 190 patients were treated and given free medicines. Also, ration cards were renewed and corrected; the Apex Bank distributed passbooks to new customers, and new Aadhar cards were enrolled. The APEDA provided subsidized bulbs, while the Animal Husbandry and Veterinary department treated animals. The Women and Child Development department enrolled 44 women under various national social assistance programmes, while one farmer received a power tiller.
Job cards were issued, and awareness on the forthcoming election and police-related cases was created.
All the government departments participated in the programme, bringing a smile to the faces of the people of this remote village.
Of course, there are still miles to go. There are roughly 300 villages in East Kameng district and the government and the administration must continue their journey of hope, providing succour to the poor and the disadvantaged in the villages. The administration has already picked up a good momentum; it should continue with it to ensure that the government's benefits reach the last person in the line.
Meanwhile, the public was jubilant all the more because as a run up to the sammelan, the circle also got electricity after two years of wait, and a proper water facility, besides a temporary motorable road.
Things are looking up for Richukrong. Hopefully, the other parts of the district will also witness similar developments in the days to come.