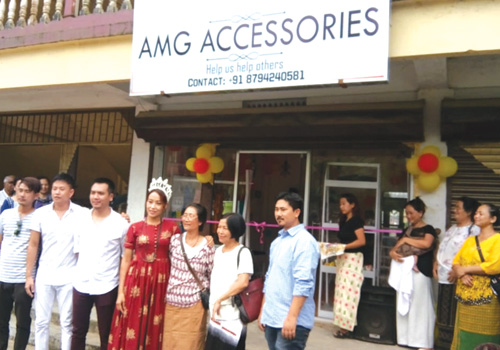 ITANAGAR, Aug 18: Although Tadu Amung Lollen's mortal being has moved on, her legacy, AMG Accessories, drew a new breath today with the opening of its outlet here.
The outlet was inaugurated by Dr Duyu Meena Mudang (Mrs India, 2017).
AMG Accessories is a non-profit organisation founded by Amung – who was a cancer patient herself – to raise money for cancer patients of the state by selling traditional earrings, decorative flowers, dream-catchers, and various newly-added products.
Amung's elder brother Tadu Kani informed that the outlet is a means to carry forward the aspirations of his sister.
"Amung always wanted to open a proper outlet for selling accessories to support her cause, and was supposed to do so on 21 July, but, unfortunately, she passed away on 17 July."
Kani said all the profits from the outlet would be used to support underprivileged cancer patients undergoing treatment at the NEIGRIHMS, and that they would donate the profits to patients on the basis of their respective doctor's recommendation.
Twenty-eight-year-old Amung had earlier survived stomach cancer, and started selling accessories through her friend's shop to help other cancer patients. She was also actively involved in carrying out cancer awareness programmes in the state, with help from oncologists in the state, as well as from the NEIGRIHMS.
However, she suffered a relapse and was undergoing treatment at TRIHMS, Naharlagun, where she breathed her last.