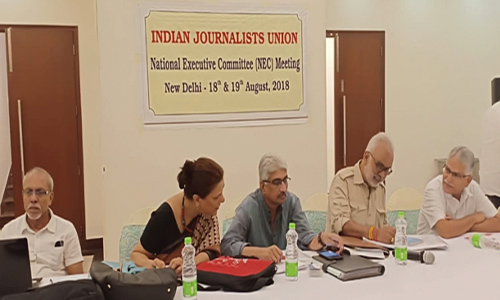 NEW DELHI, Aug 18: Journalists from across the country congregated in the national capital on Saturday to participate in the two-day national executive committee meeting of the Indian Journalists' Union (IJU).
Held at a city hotel, the annual meeting of the national executive committee comprising executive members from the IJU's state units, including the Arunachal Pradesh Union of Working Journalists (APUWJ), held discussions on improving working atmosphere for journalists.
IJU general secretary Amar Devulapalli in his address condemned the spate of killings of journalists in the country, including those of Rising Kashmir editor Shujaat Bukhari and Gauri Lankesh. He said such incidents "proved how dangerous the profession of journalism has become."
He also criticized the fact that no state other than Maharashtra has framed a special law to protect journalists.
Devulapalli said there has been an increase in the level of intolerance "among those in power" towards independent media.
"The role of the media is to talk freely and call those in power to account on behalf of the people," he said, adding that the present dispensations at the Centre and states are becoming intolerant of even the slightest of criticism.
"They are threatening and arm-twisting the management of media houses by refusing government advertisements," he said.
APUWJ president Amar Sangno informed that the Arunachal Pradesh government has sought the union's help in framing a pension scheme for journalists, in line with the recent decision taken by the Assam state government.
APUWJ general secretary Ranju Dodum presented the state report of the union's activities and informed the house about talks being held with the state government to improve the working conditions of journalists.
Dodum also informed the house about the selection of senior journalist Tongam Rina for the state award on the recommendation of the APUWJ – a move that was unanimously lauded by the members.