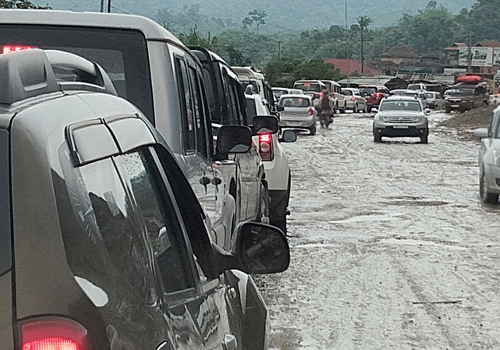 Staff Reporter
NAHARLAGUN, Sep 12: Heavy traffic jams across Naharlagun town continues to make life miserable for its residents as the deplorable NH 415 is clearly not in a position to carry the burden of the ever-increasing traffic.
Massive jams can be witnessed every day, causing immense trouble to motorists and regular commuters.
"There is no alternate road to connect Naharlagun and Nirjuli with Itanagar which is why NH 415 witnesses huge jams every day. People also do not follow lane driving and multiple lanes are formed during peak hours, which cause more jams", said a frequent commuter.
"It takes two hours to reach Naharlagun from Papu Hapa (2 KM in distance). The state government cannot continue to ignore this problem. We are fed up and everyone's anger may soon get out of control," he added.
Earlier, there was talk of constructing a steel arch bridge to connect Naharlagun with Borum village, which could have considerably eased traffic on NH 415.
"Despite the big announcement to construct this bridge in the budget, the PWD has failed to construct it on time. This shows the lack of sensitivity on the part of the state government. The government along with the PWD seems to be testing the patience of the citizens of Naharlagun Township," the commuter added.
Further, the citizens made an appeal to the state government, particularly the PWD, to speed up work on the steel arch bridge near Borum village.
"The monsoon rains were negligible this year, and therefore, the PWD cannot use it as an excuse for delay. We want early construction of the Borum-Helipad Bridge", a resident of Naharlagun said.
Also highlighting that the bridge connecting Lekhi village with Yupia railway station is progressing at a snail's pace, citizens appealed to Deputy Chief Minister cum PWD Minister Chowna Mein to intervene at the earliest.
They requested that the DCM direct his officers to complete these bridges on time and give respite to the citizens.