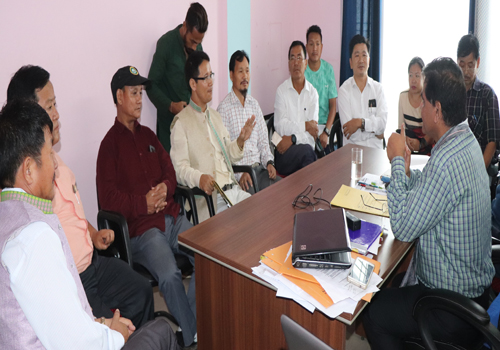 ITANAGAR, Sep 12: Leaders of several organizations from Kra Daadi and Lower Subansiri districts on Thursday met the authority of the National Highway Infrastructure Development Corporation Limited (NHIDCL) and submitted a representation seeking immediate repair and maintenance of the Talo to Yapak Geko stretch of road under Joram-Koloriang, Trans-Arunachal Highway (TAH) project.
The team led by Nyishi Elite Society (NES) general secretary Heri Maring met NHIDCL general manager Col Prabhakar Kumar here at the NHIDCL office and submitted a memorandum for immediate repair and maintenance of the Talo-Yakha camp to Yapap Gyeko road (20KM to 50KM) within the first week of October.
"The road stretch (Talo to Yapap Geko – CH: 20KM to 50 KM) is in deplorable condition and there is the possibility of loss of life and property," the team informed the NHIDCL.
"Ever since this road was taken over by the NHIDCL from the BRO, the condition has worsened. Traffic movement on the road is unavoidable due to absence of an alternate road. Under such circumstances, commuters are facing a lot of problem," said Maring.
Meanwhile, Maring urged the state government and deputy commissioner of Lower Subansiri district to immediately settle the land compensation problem so that work on the entire stretch of Joram to Koloriang road can be taken up at the same time.
The team has assured all support and cooperation for immediate repairing and maintenance of said stretch of road and also for construction of Joram-Koloriang road.
Reportedly, the NHIDCL general manager has assured to start the repair and maintenance work of Talo-Yakha camp to Yapap Gyeko (20KM to 50KM) for which the tender works is nearing completion.
Col Kumar also sought support and cooperation from the people, especially locals.
Besides NHIDCL deputy general manager Hibu Tadey, members of the Yachuli Circle Employee Forum, NES Kra Daadi and Lower Subansiri district units and PEWA were also present in the discussion.