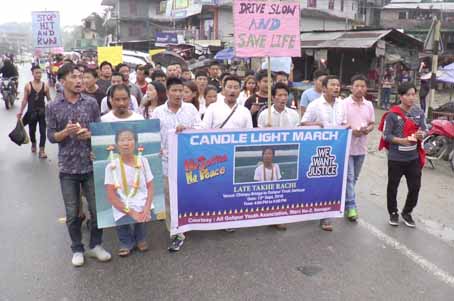 Staff Reporter
GOHPUR, Sep 13: The All Gohpur Youth Association Ward No 2 (AGYA W-2), with support from several other organisations of the capital complex and Lower Subansiri district took out a candlelight march here on Thursday evening, seeking immediate arrest of the Tempo driver involved in the hit-and-run death of one Takhe Rachi.
Addressing reporters, AGYA W-2 president Sorang Talo said they would submit a memorandum to the DC, the SP and the local MLA, and demanded speedy investigation, so that the culprit is arrested at the earliest.
Claiming that most Tempo and Trekker drivers indulge in alcohol consumption, do not have valid driving licence, and do not maintain their vehicles, the association requested the district administration to carry out routine checks on all commercial vehicles and their drivers for driving licence, working lights, and the overall condition of the vehicles.
It also sought installation of CCTV cameras at Gohpur Tinali, permanent deployment of personnel at the Gohpur police beat point, and construction of a speed breaker at the Zoo road-Chimpu road-Ganga road tri-junction.
Talo informed that an unidentified Tempo hit Rachi on 7 September at around 6.40 pm at Gohpur Tinali. While onlookers came to help her, the Tempo reportedly fled the scene of the incident. Rachi was rushed to the hospital but was declared 'brought dead'.
A widow, Rachi is survived by her four children.
Meanwhile, the All Hong Employees' and Pensioners' Welfare Association (AHEPWA) has condemned the incident and sought immediate arrest of the culprit.
The AHEPWA alleged that the investigating officer of the case was unable to trace the culprit and was not taking appropriate measures to meet Tempo drivers or their association for cooperation.
It also requested the All Tempo Welfare Association to cooperate with the police, so that the culprit is arrested at the earliest.