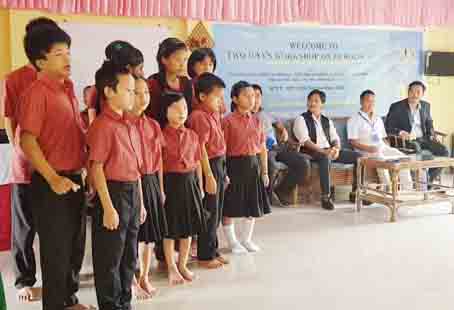 Staff Reporter
CHIMPU, Sep 13: A two-day workshop on echolocation or flash sonar for visually impaired persons began at the Donyi Polo Mission School for the Hearing and Visually Impaired here on Thursday with Thomas Tajo from the 'Visoneers for World Access' as the resource person.
Organised by the Education Development Organizing Society (EDOS), the workshop had visually impaired students of the school participate in demonstrations using echolocation or flash sonar to locate objects and navigate themselves.
Thomas, who is blind since he was seven or eight years old, informed that through echolocation techniques, blind people can click their tongues to "throw sound" towards an object. When the sound reverberates, it helps them know about the distance, density and dimension of any object.
"The acoustic reverberations give us a mental image of space and help us navigate. If you learn it, it is almost impossible to bump into a wall," he said.
On queries raised by the students, Thomas informed that the technique can be applied in crowded places as well, but advised first learning it in a quiet environment. While echolocation can be used for low-lying objects or even the ground, he suggested using long canes.
"It is more convenient to use a cane instead of clicking your tongue towards the ground. You can also clap in traffic or noisy places. Combine all the techniques intelligently," he said.
He also taught the visually impaired students and a teacher of the school the techniques of echolocation.
Following basic training today, the students will be taken out of the school campus on Friday, so that they can learn more about using the technique in public places.
The school's principal H Sharma, its vice-chairman Oken Apang, EDOS chairman Sanjoy Dolo, and programme organising chairman Ajit Tajo Sonam encouraged the students to make the most of the training provided by Thomas in order to enhance their sensory abilities.