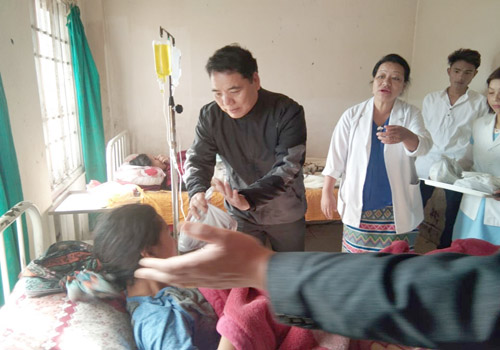 TAWANG/BOMDILA, Sep 19: Minister for Health and Family Welfare, RD and PR Alo Libang inspected the district hospitals of Tawang and Bomdila to take stock of the facilities available in both the hospitals.
Libang, accompanied by Tawang MLA Tsering Tashi inspected the medical equipment and infrastructure of the district hospital in Tawang.
He also examined the facilities available at the general hospital in Bomdila.
During his visit, the health minister interacted with the patients at both the hospitals and distributed fruits to them.
He also took stock of registration of beneficiaries under the Chief Minister's Aarogya Arunachal Yojana and status of various schemes being implemented under the National Health Mission.
Libang assured to post medical staff as per the requirements in the coming days.
Earlier, DMOs of both the districts apprised the minister regarding existing staff positioning, especially of specialist doctors, MOs (GD) and nurses in Tawang and West Kameng districts.
Libang also met with officials of the Tawang and West Kameng DRDAs.
He said that the state government is working to find a solution to the issues of DRDAs in Arunachal, and advised the staffers to work sincerely.
He also visited the establishment of DRDA Bomdila and reviewed the progress of rural development schemes, such as MGNREGs, PMAY-G and SPMRM, being taken up in West Kameng district.