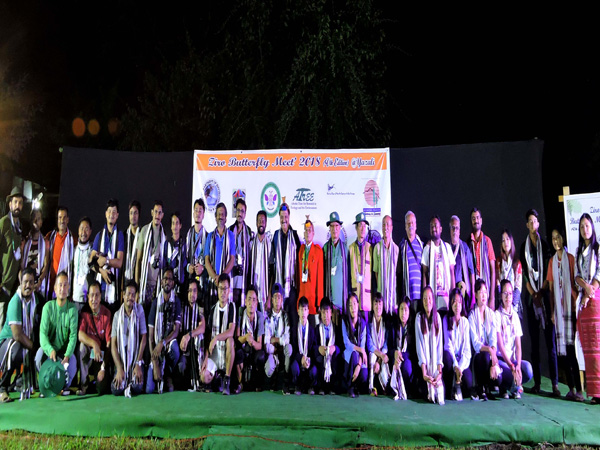 YAZALI, Sep 22: Wildlife buffs from across the country have gathered here in Lower Subansiri district for the fifth edition of the Ziro Butterfly Meet that began on Saturday.
Among others, naturalist and renowned photographer Isaac Kehimkar, butterfly enthusiasts from Kerala, Karnataka, West Bengal and Assam, and students from Yazali, Ziro and Itanagar are participating in the event.
Kehimkar, who is known as India's Butterfly Man, advocated declaring Talle Wildlife Sanctuary in Ziro as a butterfly sanctuary.
The sanctuary boasts of the world's three rarest butterflies – the Bhutan Glory, the Kaiser-e-Hind, and the Brown Gorgon.
"Rare species like Kaiser-e-Hind is equivalent to larger animals like tigers and lions," Kehimkar said.
He described the Northeast region, which has a large concentration of butterflies, as his "pilgrimage for butterflies." He urged the people of Arunachal Pradesh to preserve the state's large forest cover.
The Ziro Butterfly Meet is an annual event organized by NGO NgunuZiro. "It seeks to educate people on the crucial role played by butterflies in sustaining life on earth, and makes efforts to conserve the small creature," said NgunuZiro advisor Dr Tage Kanno.
"All kinds of flora and fauna, especially small creatures like butterflies, play a crucial role in sustaining life on earth," he said, and called for working towards peaceful coexistence between nature and humans.
Techi Kak, chairman of local event partner Panyor Solyoq, highlighted the huge but unexplored ecotourism potential of Yazali.
Lower Subansiri Gaon Burah Association president Baath Khilli expressed regret that many valuable trees have been felled and numerous wildlife species killed because of lack of awareness.
"Though it is late, the gaon burah association has started conservation activities by banning hunting of wildlife," he said.
Taba Topu, chief patron of the Tat Gaga Foundation, Yazali, advised the students to participate actively till the end of the programme and try to learn as much as they can from the experts.
He pledged to give more time to conservation activities, and declared that he would start a butterfly garden in Yazali.
Apart from the discovery of the world's three rare butterfly species, a new species of moth, named 'Apatani Glory', was also discovered during earlier editions of the event.