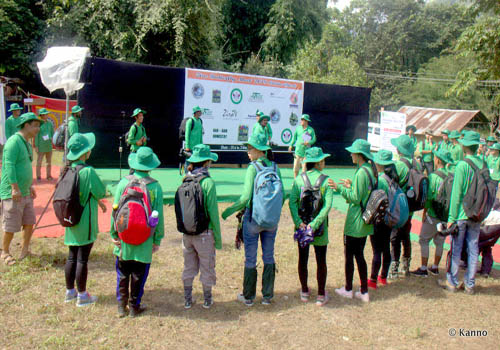 Proposal to make TWS a butterfly sanctuary
YAZALI, Sep 24: The fifth edition of the Ziro Butterfly Meet this year saw the documentation of 171 different species of butterflies from Yazali area of Lower Subansiri district.
The two-day event, which concluded on Sunday, also witnessed the sighting of important species like the White Dragontail, Veined Jay, Bispot, Black Prince, Large Yeoman, Tiger Hopper, Red Base, Jezebel, Grey Pansy, and Chocolate Tiger.
The meet came up with a set of recommendations, including submission of proposals to the government for designation of Kaiser-e-Hind as the state butterfly and Talle Wildlife Sanctuary (TWS) as a butterfly sanctuary.
DFO Koj Rinya appreciated NGOs NgunuZiro and Panyor Solyoq for successfully organizing the meet, and congratulated all the participants.
She welcomed all to visit TWS, where some of the rarest butterflies in the world are found, and promised to put forward the two proposals to the authority concerned.
"The whole of Lower Subansiri district could be developed as a butterfly hub," she said.
Isaac Kehimkar, the Butterfly Man of India, made a PowerPoint presentation on the importance of butterflies in the ecosystem, and advocated seeking funds from various corporates under their CSR schemes for butterfly conservation.
During the valedictory function on Sunday, prizes for photography of the rarest butterfly and the most varieties of butterflies were given away. Certificates of participation were handed out to all.
The participants said they were overwhelmed by the rich butterfly diversity of the area and the hospitality of the people.
Earlier, the participants from various parts of the country, including Kerala, Karnataka, Tamil Nadu, Maharashtra, West Bengal and Assam, dressed in their traditional attires, displayed their cultures.
NgunuZiro has been organizing the Ziro Butterfly Meet every year in order to spread awareness about the importance of all creatures in the ecosystem and to promote their conservation.
Tourism Assistant Director Bengia Mana Sonam, Ashoka Trust for Research in Ecology and Environment (ATREE) regional director Sarla Khaling and a host of senior leaders of Yazali area attended the valedictory function.
The fifth edition of the Ziro Butterfly Meet was sponsored by the tourism department as part of the Paryatan Parv being observed all over the country from 16 to 27 September. Other sponsors included Taba Apa, the State Foundation for Biodiversity Conservation, the ATREE, and the forests & environment department.