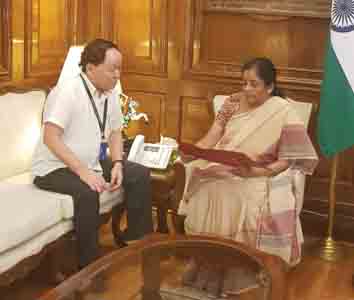 NEW DEHI, Sep 27: Arunachal Pradesh Land Management Minister Nabam Rebia on Thursday called on Union Defence Minister Nirmala Sitharaman here and apprised her of the issues pertaining to acquisition of land in the state for defence purposes.
He also reminded the minister of her assurance, which she had given during her visit to Arunachal in December 2017, that she would intervene to settle all the pending land acquisition process in the state.
Rebia informed Sitharaman that although the Army initially takes matters of land acquisition very proactively, it backtracks during finalization of the issues, and decisions are delayed, "due to which the state government, particularly the officers involved in the land acquisition process, gets discouraged."
He handed over a demi official letter from Chief Minister Pema Khandu to the defence minister regarding land acquisition for establishment of an Army headquarters in Gumto in Papum Pare district.
An area measuring 661.90 acres was identified for the headquarters by the Army in 2008, and the state government notified it (vide Notification No LM-67/2010, dated 25 December, 2015).
"However, the acquisition process is pending till date," Rebia said, and requested the union minister to expedite the matter on priority.
On her part, Sitharaman assured that the issue would be looked into and appropriate action taken.