[ Kime Rambia ]
ITANAGAR, Sept 30: As the range forest officer of the Tippi wildlife range of the Pakke Tiger Reserve (PTR), even our Gandhi Jayanti is filled with adventure and wilderness.
On 2 October last year, a local resident called me at around 9:30 pm to inform about an elephant creating trouble on the busy Tippi-Bhalukpong road. I reached the spot with my staff; but as it happens many times in these cases, "Andar chala gaya" was what I was told by someone, pointing towards a bush. The visibility was less than 5 metres ahead, but the small circumference of the footprints indicated the presence of a calf.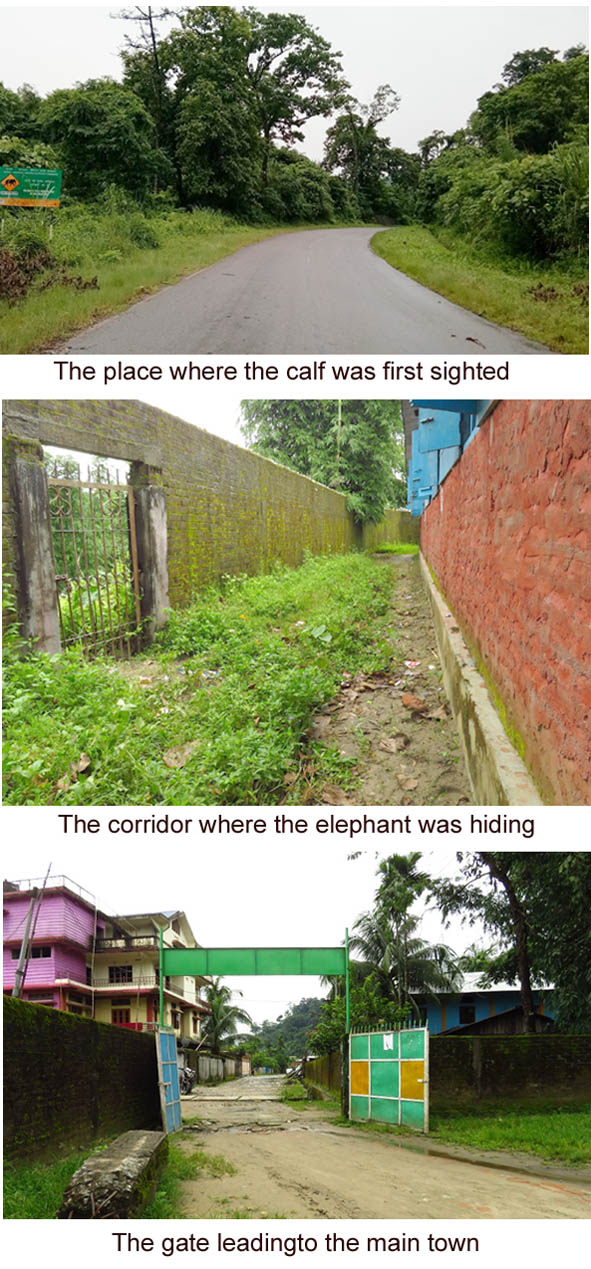 We were worried about the probable presence of the mother, so we moved down the cliff, fully alert and with torches in our hands. Suddenly the young calf came running towards us, and as we ran back, it followed us. We decided to lead it to the Dezzling corridor, which is a narrow patch between Tippi village and Bhalukpong town. Elephants have been moving across the landscape for many generations through this corridor. We were hoping the mother would be around, and halted the traffic to allow the calf to pass. This entire exercise took us three hours.
After returning to my place, I was about to hit the sack. But now the principal of Ruth Foundation School came banging on my door, reporting that an elephant had entered the school compound.
The school is located beside the Kameng river, and just outside PTR. It has boarding facility with 50 students between 8 and 12 years old residing.
Unsurprisingly, the 1.5 hectares of the school compound is secured by a concrete wall, with only one entrance gate. I rushed to the spot with my team. We were a mix of seasoned and young staffers: M Doimary (dak runner) and Niranjan Boro (night guard) are two of my longest serving colleagues in the range. They themselves have had close encounters with elephants while camping inside the tiger reserve.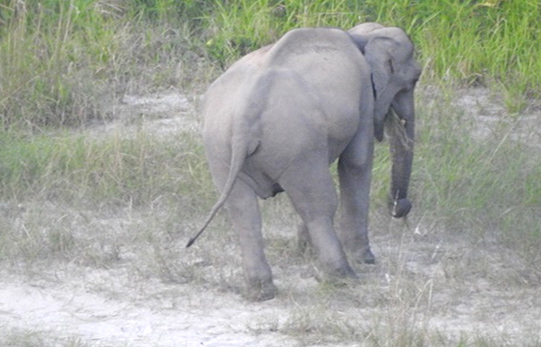 Rakesh Nabum is a member of the Special Tiger Protection Force (STPF), who survived an encounter with a leopard at his anti-poaching camp, and Nana Miji, again an STPF member, who was an eyewitness to the leopard attack. So we were acutely aware of the danger.
We reached the spot at 12:30 am to take stock of the situation. Apparently, a huge elephant had entered through the school gate after pushing it open. The school children were all confined to their hostel rooms and understandably terrified.
Despite the poor visibility, looking at the size of the elephant's footprint we immediately concluded that a mother elephant may have got separated from her calf. The traffic, and a combination of fear and confusion, may have led her into the school.
Many things don't align correctly when there is pressure to deal with such a situation. I asked my staffer Chandan Patro to call a support team, but there was no phone network in the middle of the night. Then I sent Hage Tamang, the driver, to rush to the nearest police gate and ask for support. He came back disappointed, telling us that there were only two police personnel at the gate and it couldn't be kept unmanned.
The option of moving the students out was also not viable as the elephant was too close by. The mother was hiding in a small corridor between the concrete wall and the classrooms. We thought of chasing it out through the same gate – not an easy task by any means – but there was a hurdle. The main gate opened towards the main town, and the elephant could create more damage.
Khoda Rakhi, the circle officer of Bhalukpong, also reached the school and wanted the safety of the children to be the strict priority; so we had to think of our other options very carefully.
First, we lit a fire near the entrance, so that the elephant could not take that route to exit into the main town. Then, on enquiring further, we found out that the school had a small gate in the backyard, but it was locked. There was no chance of opening the lock during that hour as she was waiting just near the gate. We tried to direct her towards a narrow path to the bank of the river. Despite the stress on all of us, including the mother, she was one of the calmest we have encountered in our landscape.
I stationed Rakesh and Nana near the hostel with their .315 rifles for any eventuality. As much as we were concerned for the elephant, we were more concerned for the safety of the children. Doimary along with a few locals was stationed beside the fire to avert the elephant rushing into town; the rest of us gently drove her towards the given direction, and she kept moving as planned.
But after a few minutes, she stopped, and broke down a portion of the wall. She chose her own path and made an exit for herself from the back of the school compound. She was now headed to the Tippi-Bhalukpong highway. She was still calm, but her right leg had a limp, and she steadily made her way as we drove her towards the Dezzling corridor. We helped her when we needed to by stopping the traffic.
A few truckers whose trucks were parked along the roadside, concerned for their vehicles, scared the elephant away, making it deviate from the planned direction. It took us plenty of time and patience in redirecting it towards the corridor. It took her three hours to reach the corridor, and it was a case of "andar chala gaya" again. We couldn't tell if mother and calf were reunited.
It was now 3:30 in the morning. Niranjan and Doimary, with relief writ large on their faces, said, "Sir, bhagwan ka ashirwad say school bachcha log ko kuch nahi hua. Abhi toh bahut andhera hai; kal subah ek baar dekhne say theek rahega."
Indeed, the children were safe and there was no major damage, except for slight damages to a two-wheeler and a dwelling house.
We were back at six in the morning, and searched the entire area. We were disappointed not being able to ascertain whether mother and calf were reunited. We could just hope they did. We were on alert the whole day, but then no news or phone calls came.
After more than a month, I got a call that a large number of elephants had gathered on the bank of the Kameng river. They were still on the bank of the tiger reserve. We reached there at the earliest to see if they were going to cross over.
I decided to shoot a small video as they kept coming out from the forest and to the river. I counted a total of 24 individuals… and among them, the mother, who was limping back to life, reunited with her smaller calf. And in my small video I am exclaiming happily: "Arrey ye toh wahi haathi hai; arrey wahi hai, aur uska baccha bhi saath mein hai!" (The writer is Range Forest Officer, Tippi Wildlife Range, Pakke Tiger Reserve. This article has been submitted to the WTI for the elephant story competition. )