Cleanliness drives mark culmination of 'Swachhta Hi Seva'
ITANAGAR, Oct 2: Chief Minister Pema Khandu on Tuesday paid floral tributes to Mahatma Gandhi on his 149th birth anniversary here, and also took part in a cleanliness drive that marked the culmination of the 15-day 'Swachhta Hi Seva' campaign.
The chief minister flagged off 11 trucks of the Itanagar Municipal Council (IMC), adding to the council's fleet of garbage collection vehicles.
Pema congratulated the IMC and said the motto of keeping Itanagar clean and green should be followed with full sincerity and dedication.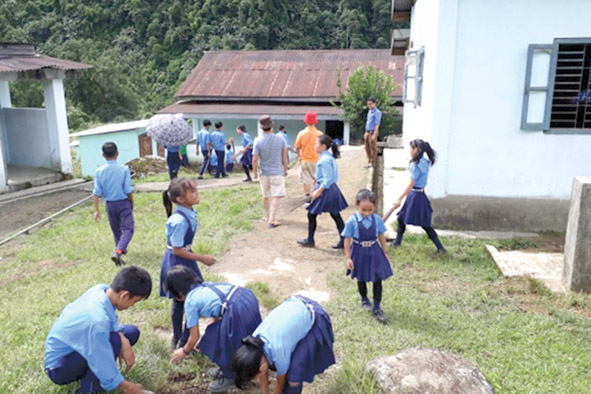 The event was organized by the capital district administration, along with the IMC and the urban development & housing department.
Governor BD Mishra exhorted the people of the state to imbibe the Gandhian thoughts and way of life.
Attending a 'sarva dharma prarthana sabha' (all-religion prayer meeting) organised on the occasion of Gandhi Jayanti in the Raj Bhavan here on Tuesday, the governor said, "Incorporating truthfulness, brotherhood, cleanliness, transparency, accountability and honesty in our approach to life, administration, and projects will be the greatest tribute to Gandhiji on his birth anniversary celebration."
He also recalled the characteristic aspects of the Satyagrah, and Gandhi's principle of ahimsa.
Led by the governor and his wife Neelam Misra, various religious leaders and special invitees, including school children, attended the programme and paid floral tributes to the Father of the Nation.
The religious leaders offered prayers for world peace and amity in their respective customary ways.
To commemorate the occasion, the first lady released a documentary on traditional weaving, titled 'Bhunai Ke Rangin Duniya – Loin Loom Weaving', conceptualized by her. She dedicated the documentary, which aims to promote traditional weaving, to the Father of the Nation, who promoted khadi as a means of self-resilience and empowerment throughout his life.
The state BJP organized a cleanliness drive at the Tomo Riba Institute of Health & Medical Sciences (TRIHMS) in Naharlagun to mark Gandhi Jayanti.
Led by state BJP president Tapir Gao, the drive was participated in by senior party leaders, workers, and office bearers.
Earlier, floral tributes were paid to the statue of the Father of the Nation at the mini-Gandhi Park in Niti Vihar. The function was also attended by the CM and other dignitaries. Later, fruits were distributed to the indoor patients of the TRIHMS by Tapir Gao, local MLA Techi Kaso, and other party workers.
The BJP team also distributed fruits among the students of Donyi Polo Vidya Niketan in Pachin Colony, where the programme was organised by the state unit of the Bharatiya Janata Yuva Morcha.
In Pasighat, a voluntary blood donation camp was organized at Bakin Pertin General Hospital to mark Gandhi Jayanti by the JN College unit of the Arunachal Pradesh College Teachers' Association, in collaboration with the NSS volunteers of the college. Twenty-seven units of blood were collected.
In Palin, a mass cleanliness drive was organized in the town area, which saw the participation of local MLA Takam Pario, Kra-Daadi Deputy Commissioner S Miji, HoDs, students and members of the public.
Maintaining a clean environment is for the health of all humans, and good health depends on the atmosphere, Pario said.
The principal of the government higher secondary school, Byabang Kyochi, appealed to the students to understand the importance of cleanliness.
In Seppa, government officials led by East Kameng Deputy Commissioner Gaurav Singh Rajawat, religious and public leaders, students, and teachers paid floral tributes to the statue of Mahatma Gandhi at the circuit house on the occasion of Gandhi Jayanti.
This was followed by an all-religion prayer, administration of the swachhta pledge by the DC, and distribution of prizes to winners of essay and drawing competitions on 'Swachhata Hi Seva' which was conducted at all the schools. The celebration was organized by the administration in collaboration with the PHE&WS department.
In Yingkiong, Gandhi Jayanti celebration started with paying of floral tributes to the portrait of Mahatma Gandhi by Health & Family Welfare Minister Alo Libang.
Libang appealed to the people to maintain cleanliness, health, and hygiene, and highlighted the importance of the 'Swachhata Hi Seva' campaign.
Cleanliness drives were conducted at various places in the district to commemorate the day. Upper Siang DC Duly Kamduk and other government officers, students, teachers, and members of the public participated in the drives.
More than 500 members of the NCC, the NSS, and the Dera Natung Government College (DNGC) Students' Union, along with faculty members and staffers of the college took part in a cleanliness drive in the college campus in Itanagar to mark Gandhi Jayanti.
DNGC Principal Dr NT Rikam advised the students to maintain cleanliness and follow the Gandhian principles and ideals.
The 18-day-long 'Swachchta Hi Seva' programme of the Doimukh-based 12 Bn NDRF in various places of the state also concluded with the celebration of Gandhi Jayanti. On the last leg of the campaign, an NDRF team led by Deputy Commandant PN Singh along with local youths and ISBT officials conducted a cleanliness drive at the interstate bus terminal in Lekhi.
In Hollongi, NDRF personnel, the market welfare committee, the PHE department, and the residents cleaned up the market area.
The rank and file of the Arunachal Pradesh Congress Committee, led by its president Takam Sanjoy, paid floral tributes to the portrait of the Father of the Nation at Rajiv Gandhi Bhavan, Itanagar.
AICC secretary Zenith Sangma recalled the contributions of Gandhiji in achieving freedom for the country, and his ultimate sacrifice for the cause of peace and nonviolence. He appealed to the party workers and people in general to follow the path shown by Gandhiji for peace and nonviolence in the world.
Sangma and Sanjoy later flagged off the INC rally from Rajiv Gandhi Bhavan to Palin in Kra Daadi district.
The Arunachal Pradesh Congress Seva Dal organized a social service at Gandhi Market, Naharlagun, on the occasion of Gandhi Jayanti. The programme started with paying of floral tributes to the portrait of Gandhi.
The Manipuri Welfare Society of Arunachal Pradesh, the Arunachal Pradesh Gorkha Youth Welfare Association, the All Bengal Welfare Federation, the All Capital Complex Assamese Youth Welfare Association, and the All Gohpur Youth Association jointly organized a cleanliness drive from Akashdeep Complex to Ganga Market, Itanagar.
Students and staff of the College of Horticulture & Forestry, the College of Agriculture, and the Krishi Vigyan Kendra conducted cleanliness drives in the campuses of their respective institutions in Pasighat.
The officers and officials of the directorates of secondary education, elementary education, and the Samagra Shikhsa Abhiyan organized a cleanliness drive in their office premises.
In Namsai, nearly 50 Brahmakumari members cleaned up the town to mark Gandhi Jayanti and extended their 18-day cleanliness drive to the 19th day.
In Naharlagun, the BSNL conducted cleared the garbage near the Apex Bank on the occasion of Gandhi Jayanti.
The programme saw the participation of BSNL General Manager Dilip Siram, Additional GM Arung Siram, DGM SN Lakra, APPSC member Tsering Naksang, and others.
Over 150 NSS volunteers of the government higher secondary school in Itanagar took part in a cleanliness drive in the school's premises under the 'Swachhta Hi Seva' campaign on Tuesday.
Earlier, on 1 October, the volunteers had donated blood on the occasion of National Voluntary Blood Donation Day at the banquet hall.
The Students' Council of Don Bosco College Itanagar also organised a cleanliness drive in Jollang village under the 'Swachhta Hi Seva' campaign on Tuesday.
The drive saw the participation of students and faculty members of the college, who collected wrappers, bottles, plastics, etc, and cleared the bushes on the roadsides.
Kidzee Smart Kids School, Chandranagar, in collaboration with the SBI Life's Itanagar branch organized a drawing competition for school children on the occasion of Gandhi Jayanti.
In Khonsa, 'Swachhata Hi Seva' was organized to mark the celebration of Gandhi Jayanti. Tirap DC PN Thungon, who participated in the cleanliness drive, administered the Clean India pledge. He also distributed dustbins at the market and various schools in Khonsa area.
Brand ambassador of Swachh Bharat Abhiyan for Tirap, Ponghong Bayang, highlighted the Swachh Bharat Abhiyan.
In Borduria, Advisor to CM, Wanglin Lowangdong paid homage to the portrait of Mahatma Gandhi. He called upon the people to rededicate themselves to the values espoused by the Father of the Nation for peace, fraternity, harmony and inclusive national development.
Social services were also conducted at Bera village, Deomali, Lazu, Dadam, Soha, and Bari-Basip.
At VKV Koloriang in Kurung Kumey district, VKV principal Bhim Prasad Upadhyay highlighted the vision of Mahatma Gandhi regarding cleanliness. Students also conducted a cleanliness drive in the school campus to commemorate the day.
In Bomdila, Gandhi Jayanti celebration was made memorable with skits by the students of Modern School and Shanti Deva Vidyalaya highlighting issues of health and sanitation, water conservation, deforestation, global warming, cleanliness, and construction of IHHLs.
A puppet show on the importance of hand washing and cleanliness, organized by the health & family welfare department, an extempore speech competition for students, and a PowerPoint presentation on SBM were the other highlights of the event.
Earlier, MLA Japu Deru highlighted the noble thoughts and good deeds of Mahatma Gandhi and called upon the people maintain cleanliness.
West Kameng DC Sonal Swaroop said the dream of a glorious India could be achieved only by being clean in thought and deeds, and by maintaining cleanliness.
Gandhi Jayanti was also celebrated in all the administrative centres of Papum Pare district.
In Doimukh, a cleanliness drive and a swachchta rally were organised by the sub-divisional administration in collaboration with the National Highway and Infrastructure Development Corporation Ltd.
The students and teachers of GHSS Doimukh, led by Principal Nyagi Riba, celebrated Gandhi Jayanti at the school premises.
In Sagalee, a social service was conducted to mark the occasion. Sagalee ADC S Lowang distributed prizes to the winners of the essay writing competition.
Cleanliness drives were also conducted in Yupia, Kimin, and Balijan on the occasion of Gandhi Jayanti.
In Yazali, a plantation programme and a volleyball tournament were organized by the Team Go Green at the government higher secondary school on the occasion of Gandhi Jayanti.
MLA Likha Saaya in his address said "though no one can be Gandhiji, one should follow the ideology of peace, harmony and love advocated by Mahatma Gandhi."
He also encouraged the students to spread the idea of 'each one plant one'.
Responding to a memorandum submitted by the Team Go Green for the construction of an assembly building for the school, Saaya donated Rs 10 lakhs from his MLALAD fund, and assured to bring changes in terms of infrastructure and quality education. (With inputs from DIPROs)