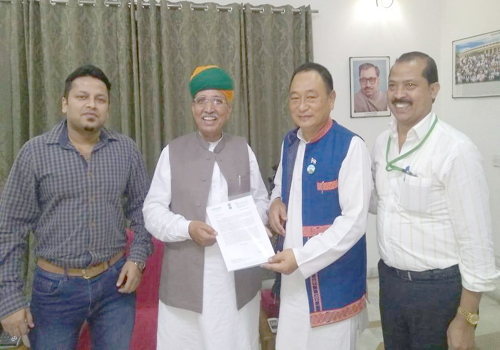 NEW DELHI, Oct 3: Minister of State for Water Resources, Arjun Ram Meghwal has assured Lok Sabha member, Ninong Ering of taking up dredging process of the Siang River soon after thorough examination.
Earlier, Ering had appealed for allocating funds for taking up dredging of the Siang River by the end of 2018, which is expected to cost around Rs 1000 crore.
The MP has also written to the MoS wherein he has expressed concern over the sudden rising turbidity as well as water level of the river due to sedimentation and deposition.
Ering said, "Siang River is the lifeline of the people of Arunachal and Assam. Siang ensures that the water table of the entire region
it passes through is maintained to satisfy the needs of the people. But last year, the river witnessed sudden blackening with heavy turbidity and now the water level has risen due to sedimentation and deposition.
"Heavy erosion took places in areas adjoining Siang this month only. The river has eroded large chunk of agricultural lands. It left many natives homeless. In absence of embankments, villagers are somehow built sandbags embankment to protect their lives. Even few stranded people were airlifted by Airforce at Jampani. The kind of threats and problems faced by us are very real and we have to live with that on a daily basis".
He also demanded construction of embankments by 2019, especially of Paglek, Jarku and Jarkong, Silka Tode, Sika Bamin, Borguli, Seram, Mebo and Jam Pani villages.