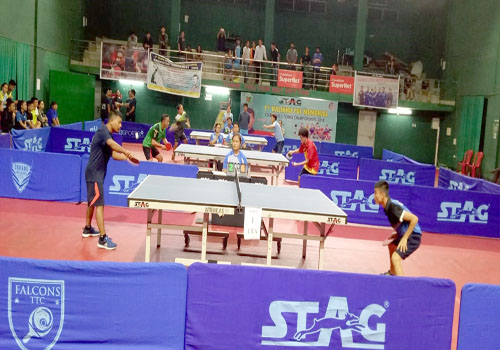 ITANAGAR, Oct 13: Getit Nopi of Sangay Lhaden Sports Academy (SLSA) and Pawan Rana of Changlang entered into the men's singles finals in the first Kalikho Pul Memorial state Table Tennis Championships here on Saturday.
Nopi beat Joseph Perme of East Siang in 4-3 sets, while Pawan overcame a stiff challenge from Nalo Komut of SLSA to win the match 4-3.
In women's singles, Neelam Dilli of SLSA will meet Eme Mili, also from SLSA, in the final.
Neelam entered into the final beating Bin Yakap of Papum Pare 4-0 while Eme beat Nali Meto of Lower Dibang valley 4-2.
Other results of the day
Sub-Junior Boys Single Semifinal
Tarak Maph beats Nalo Komut 4-2, Getit Nopi beats Bralo Misso 4-2 (All from SLSA)
Sub-Junior Girls Single Semifinal
Neelam Dilli beats Haril Rahi (Capital Complex) 4-1, Eme Mili beats Nungki Siboh (SLSA) 4-2.
Junior Girls Single Semifinal
Haril Rahi (Capital Complex) beats Eme Mili 4-3, Neelam Dilli beats Mamoni Taniang (East Kameng) 4-3.
Junior Boys Single Semifinal
Nalo Komut beats Tarak Maph 4-3, Getit Nopi beats Bralo Miso 4-2 (All from SLSA).