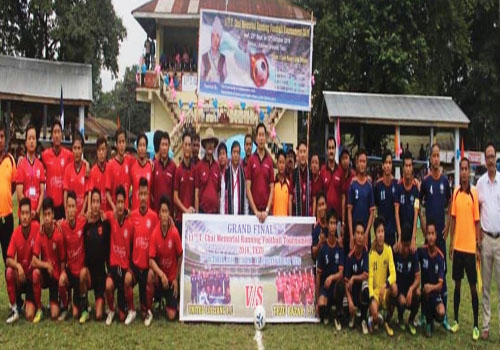 Staff Reporter
TEZU, Oct 13: United Loiliang Football Club retained the Tankakso Chai Memorial Running Football Tournament title defeating Tezu Bazar Football Club 2-0 in the final at Jubilee ground, here in Lohit district on Friday.
The main objective of the tournament was to promote football among the youths of the region.
Twenty-nine football teams from Namsai, Anjaw, Lower Dibang Valley, Lohit and Sodiya (Assam) participated in the tournament.
Hayuliang MLA Dasanglu Pul, who inaugurated the tournament on 25th September, recalled the contribution of late Chai for socio-economic development of the Mishmi community. He was also instrumental in establishment of Tezu town.
Sports and Youth Affairs Minister Dr Mohesh Chai, former minister Nakul Chai, Deputy Commissioner Karma Leki were present during the inaugural function.