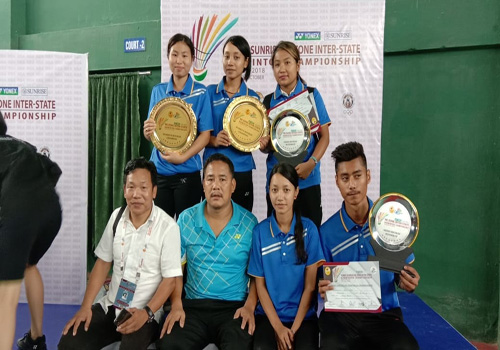 Staff Reporter
DIMAPUR, Oct 13: The pair of Taring Tania and Pinki Karki won gold medal in women's doubles of the inter-state badminton championships for North East zone here in Nagaland on Saturday.
They defeated the pair of M Somibala Devi and N Purnima Devi of Manipur 24-22 and 21-11 in the final.
Tania and Pinki entered into the final beating the pair of Ekumyala and Uma Tamang of Nagaland 21-14-21-19.
The pair of Rahul Thapa and Tania Yasap won Silver medal in the mixed double event. They went down fighting 21-13 and 21-9 to Anjan Buragohain and Manali Bora of Assam in the final.
Rahul-Yassap entered into the final beating Rewash Rai and Prasanna Pradhanof Sikkim (10-21, 21-14, 21-17).
While expressing satisfaction over the overall performance of the team, Arunachal State Badminton Association (ASBA) secretary Bamang Tago said that "the state missed Laa Talar in the event due to an ankle injury. Otherwise, the state could have won more medals," he said.
Arunachal had fielded 20 shuttlers (10 male and 10 female) in the championship.