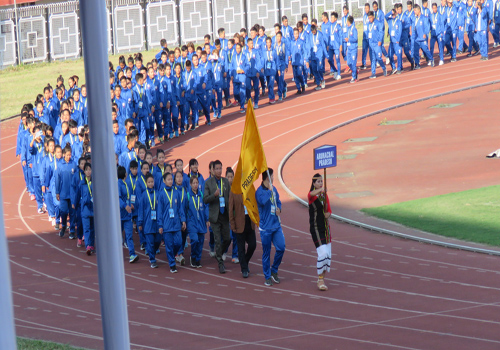 [ M Doley ]
IMPHAL, Oct 24: The highly anticipated North East Olympic Games 2018 kicked off Wednesday, here in the capital city of Manipur at 2 pm.
Around 2,000 athletes from eight North East states marched into the Khuman Lampak Stadium during the parade of states.
There was a huge cheer for the Arunachal contingent (of 184 athletes) with Commonwealth Games silver medalist Kojum Taba being the flag bearer.
Chief Minister N Birendra Singh made an atypical entrance onto the stage from the back, taking everyone by surprise before opening the Games.
The Manipur CM said his state was proud and honoured by the arrival of the special guests from the eight states of the region, including the host.
"The NE Olympic Games was given birth on July 24, 2017, when the Olympic associations of all the eight NE states had met and felt the need for organizing such an event involving all the states of the region," said the CM.
Stating that the region has tremendous sports potential, Singh exuded confidence that the Games will provide much-needed exposure and experience to the young talented sportspersons.
He hoped the event would foster unity, friendship and the feeling of oneness among the northeasterners.
Later, the CM formally declared the Games open.
Arunachal Pradesh Sports and Youth Affairs Minister Dr Mohesh Chai also attended the inaugural ceremony.
Dr Chai said he was here only to encourage the participating athletes of his state.
He interacted with almost all the athletes and enquired about their wellbeing. He also advised them to perform up to their potential and to keep the state's flag flying high.
Dr Chai was the only minister from the participating states, barring the host, to attend the Games for a purpose.
Arunachal Olympic Association (AOA) officials, including president Padi Richo, secretary general Abraham K Techi, Director Sports Tadar Appa, Arunachal Karate Do Association president Likha Tara and all other senior officials of the AOA are camping here for the Games.
Preliminary rounds of boxing were being conducted while filing this report. The rest of the events will begin tomorrow.