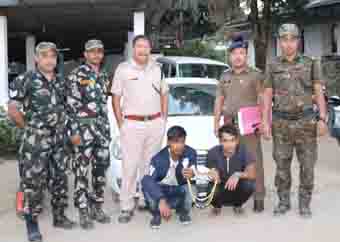 ITANAGAR, Oct 25: The police here have arrested three persons in connection with the theft of cash and other valuable items from the private residence of an engineer at B Sector here.
Capital SP M Harsha Vardhan said one Rana Tok of B Sector lodged an FIR at the Itanagar police station on 8 October, alleging burglary and theft of around Rs 12 lakhs in cash along with valuable ornaments from his private residence.
After registering the case, a team led by SI Govind Arangham began investigation, and the complainant's domestic help was arrested on 9 October on the basis of CCTV footages.
The former driver of the complainant, Karim Khan, who was identified from the CCTV footages, was also found involved in the crime. The police also arrested Karim's brother Salim Khan, who was working as the driver of an MLA, for his involvement in the case.
Reportedly, the trio fled to Guwahati, and later to Shillong, after committing the crime.
Rs 2.5 lakhs was found to have been parked in the savings accounts of Salim Khan at the SBI and Allahabad Bank. A Hyundai Verna car (AS23G/6382), a KTM bike (AS 01 DV/3134), and a Samsung mobile phone worth Rs 57,000 were seized from the trio's possession.
The SP urged the residents of the capital to properly check the credentials of persons before employing them.