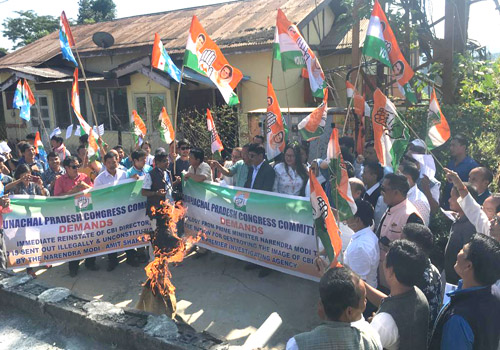 ITANAGAR, Oct 26: The Arunachal Pradesh Congress Committee (APCC) staged a protest outside the Central Bureau of Investigation (CBI) office here on Friday against the central government's divesting CBI Director Alok Verma of his powers and sending him on leave.
In Delhi, Indian National Congress president Rahul Gandhi led the nationwide opposition march against the government's move.
Addressing Congress workers and leaders here, APCC president Takam Sanjoy said Prime Minister Narendra Modi had time and again attacked the democratic institutions of the country and "has directly interfered in the matters of the functioning of various democratic institutions of the country."
"The first democratic institution to be attacked was the Reserve Bank of India. The Election Commission of India was attacked next, and then the Supreme Court of India. He has not even spared the parliament," Sanjoy said.
The state Congress chief said the protest was to show that "Narendra Modi cannot destroy or dismantle the democratic institutions of this great country, which have been laid by Gandhi, Ambedkar and Nehru."
Sanjoy claimed that when the issue of the Rafale deal came to the fore, the Congress sought investigation on it through the comptroller and auditor general of India, followed by a CBI inquiry, and when the CBI director started asking relevant questions, the Modi government interfered.
"When CBI Director Alok Verma started opening up files, seeking documents and questioning around, CBI's Special Director Rakesh Asthana, who is hand-picked by Modi and BJP president Amit Shah, acted as informer of the government of India. When the director (Verma) tried to protect the CBI and scrutinized the special director, he was sent on leave," said Sanjoy, adding that "Verma could have checked high-profile corruption."
Demanding Verma's reinstatement, Sanjoy said, "The money finished off by Modi and Shah in the name of the Rafale deal and demonetization has to be brought back, and only the CBI can do it."
Also demanding Modi's resignation, Sanjoy said, "We are raising our voices to protest the illegal, inhumane, and beyond-the-law Pradhan Mantri Narendra Modi. He makes the rules and breaks them. He may have to expel himself as the PM of India soon."
The APCC was joined by All India Congress Committee secretary Zenith Sangma, along with the Arunachal Pradesh Youth Congress and the Arunachal Pradesh Mahila Congress Committee.