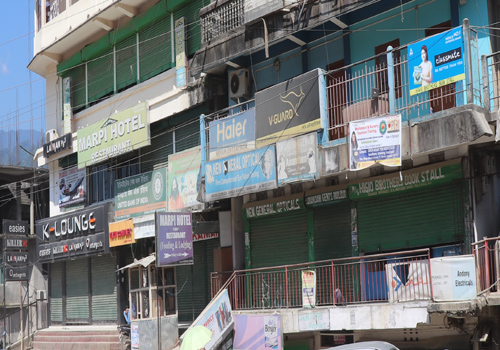 ITANAGAR, Oct 26: The business community here downed their shutters for the second consecutive day on Friday in solidarity with the commercial building owners who are protesting against the eviction drive being carried out by capital district administration along the right of way (RoW) on NH 415 from Chandranagar to Papu Nallah.
Almost all the market complexes, shopping malls, shops, restaurants, and business establishments (except banks in Itanagar), including otherwise congested squares of Akashdeep and Ganga wore a deserted look.
The shutdown was near-total with wholesale and retail shops in sector areas and medical stores too responding to the call given by the Itanagar Market Welfare Association (IMWA).
The eviction drive is being carried out by the district administration to clear the structures along the RoW for four-laning of the highway, following a recent order.
IMWA president Yumlam Achung termed the shutter-down stir a "total success." However, he said they would be withdrawing the protest from Saturday onwards, following the losses incurred by the business houses during the two-day protest.
Clarifying that the IMWA welcomes the eviction order as it is for a public purpose, Achung urged the state government to provide compensation to the affected landowners for the structures they erected with their hard-earned money.
Meanwhile, the eviction drive, which entered the third day on Friday, was carried out without any untoward incident reported.
An officer on duty said the drive would continue without pause.
"Proper security arrangements have been put in place for the workers, and the drive is progressing in full pace. So far, more than 15 RCC, SPT and OBT structures have been dismantled," the official said.
Meanwhile, a release issued by the All Arunachal Pradesh Motor Transport Federation expressed support to the eviction drive and urged the people not to create obstruction during the drive.
The federation said the construction of the four-lane road in the capital complex "is the only alternate way to solve the problem of traffic jams in the twin city."
It also urged the administration and the highway authority to keep sufficient space for parking of different categories of vehicles.