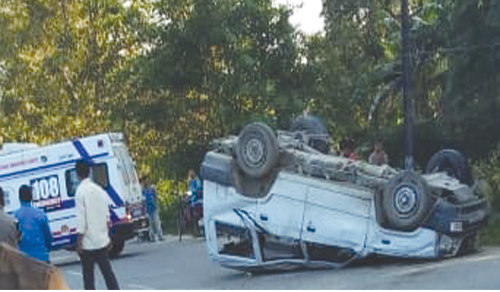 NAHARLAGUN, Oct 26: A police van carrying three juveniles to the juvenile shelter home in East Siang HQ Pasighat from here met with an accident near Silapathar in Dhemaji district of Assam on Thursday, resulting in the death of two people on the spot while four police personnel and two juveniles received grievous injuries.
Two of the injured police personnel are stated to be in a very critical condition.
Addressing the media here, Capital SP M Harsha Vardhan, who visited the victims who had been brought to the Tomo Riba Institute of Health & Medical Sciences (TRIHMS) this afternoon, said the police van (a Tata Sumo, bearing registration number AR 01-G-5211) was on the way to Pasighat.
The deceased have been identified as Tadar Taki and the driver of the vehicle, constable Anil Hiba.
Five police personnel were in the vehicle, escorting the three juveniles to Pasighat. The trio had earlier been remanded to 14 days in the juvenile home in Pasighat by Yupia-based Juvenile Justice Board's principal magistrate, in connection with Naharlagun PS Case No 158/18.
The injured police personnel are head constable Bhaikon Rajhbonsi and constables Pisa Tapam, Taba Tangum and Nada Hailyang of the Naharlagun police station.
Constable Hailyang, who is in a critical condition, was brought to the TRIHMS, while the other critically injured, head constable Rajhbonsi, is undergoing treatment in Assam. The remaining injured personnel, constables Tapam and Tangum, were also brought to the TRIHMS and are undergoing treatment.
The two other juveniles are reported to safe and have undergone medical treatment.
The SP informed that the vehicle had left for Pasighat at around 4.30 am, and the accident occurred at around 7.30 am.
The inquest was done by the magistrate in Dhemaji. The police have sent the body of late Anil Hiba to Mechukha in West Siang district for the last rites, while the body of late Tadar Taki is being brought to Naharlagun.
Vardhan said he has met the victims, and gave assurance that every arrangement for proper treatment would be made.