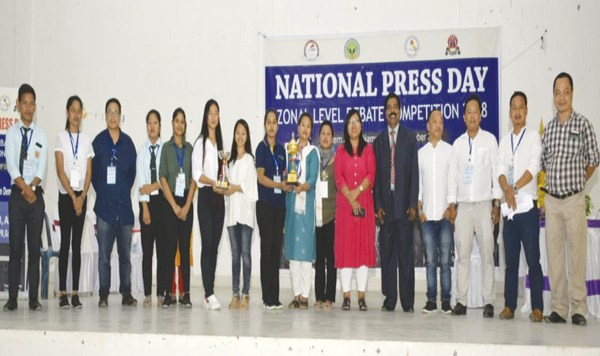 Staff Reporter
NAMSAI, Oct 29: Arunachal University of Studies (AUS), Namsai, emerged the winner of the zonal level debate competition (eastern) for the Chief Minister's Running Trophy, held at Mahabodhi Lord Buddha College here on Monday.
The competition is organized annually by the Arunachal Press Club, the Arunachal Pradesh Union of Working Journalists, and the Arunachal Electronic Media Association, in collaboration with the information & public relations department.
Debating on the topic, 'Trial by media is fair in democracy', AUS' Minsam Khimhun spoke for the motion and Jishma S Nair spoke against it.
The team from Indira Gandhi Government College, Tezu, was adjudged the runner-up, with Prakriti Yum speaking for the motion and Sangi Tayang speaking against the motion.
AUS will be participating in the annual debate competition for the Chief Minister's Running Trophy, scheduled for 16 November, on the occasion of National Press Day celebration at Itanagar.
Attending the programme here as chief guest, Namsai Deputy Commissioner Tapasya Raghav called for conducting such competitions at all colleges and universities annually.
"Such healthy debates encourage learning about other aspects of the world, and students should start acquiring knowledge beyond their prescribed syllabus," she said.
Also noting that the reading habit has gone down among students, she urged everyone to imbibe the habit of reading in order to grow as individuals.
The moderator of the debate, GHSS Chongkham's mathematics PGT SK Nair emphasized on the constructive role of the media in the 21st century.
Students of Mahabodhi Lord Buddha College, Namsai, VU Bethany College, Namsai, and Jomin Tayeng Government Model Degree College, Roing, also put in their best efforts and offered insights into the topic of the debate.
Namsai SP Ankit Singh, CO Oyam Saring, and All India Radio (Tezu) Transmission Executive Gopal Rai judged the competition.
The winners were awarded with cash incentives, certificates, and trophies. All the participants received certificates.
The western zone debate competition will be held on 5 November at the Don Bosco Youth Centre in Itanagar.