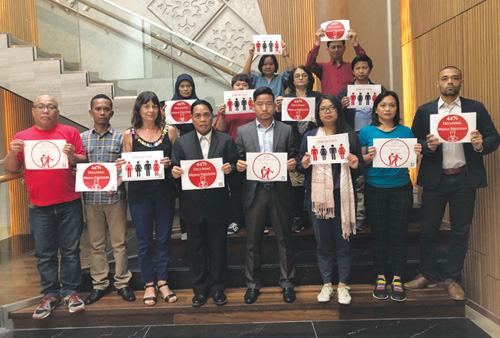 Staff Reporter
BANGKOK (Thailand), Nov 3: The International Federation of Journalists Asia Pacific (IFJ-AP) has expressed concern over the growing challenges from the digital media in the region.
The concern was raised during the IFJ-AP Digital Working Group's ongoing workshop here. The three-day workshop, which began on Friday, will focus entirely on the media situation in the Asia Pacific region pertaining to digital challenges and strengthening of union activities.
The inaugural session of the workshop dwelt on media issues, and on the Regional Corporation of Southeast Asia Journalists' Union. In her presentation on organising a 'digital ecosystem', IFJ-AP Director Jane Worthington said, "Mass redundancy in media organisations is one the greatest challenges in the digital media organizations across the region and the globe."
The members from different countries observed the International Day to End Impunity for Crimes against Journalists on the sideline of the workshop on Friday.
"The working condition is the primary threat for journalists, and job security is challenging," Worthington said.
She sought technical solutions to the challenges, and shared ideas and information to help the IFJ strengthen and equip journalists to tackle the digital-related situation in the region.
"Technology platforms have become publishers in a short space of time. Newsrooms reach larger audiences than ever before through new platforms, but at the cost of identity, branding and necessary audience data," Worthington said, adding that social platforms are "driving change and shaping journalism in new ways."
The representatives from Australia, Pakistan, Sri Lanka, India, Bangladesh, Myanmar, Thailand, the Philippines, Cambodia, Indonesia, Malayasia, Hong Kong and Timor Leste attended the brainstorming workshop.
Representing the Indian Journalists Union, Arunachal Pradesh Union of Working Journalists President Amar Sangno highlighted the media situation in India, particularly the digital media industry and the government's repressive polices to curb press freedom.
Justin Molito from the Writers Guild of America (East USA) made a PowerPoint presentation on how unions change or adapt approaches to building labour power into the future.
Speaking on the youths' involvement in union activities concerning digital media, Ratna Ariyant of Indonesia suggested encouraging young journalists to be leaders "by providing them with services which are relevant to their needs, particularly multimedia training and strengthening the global cooperation."
Ariyant added that in order to strengthen unions, "physical meeting is not necessarily; rather online and virtual meeting can be significant."
On the same topic, Michelle Bellino of the Philippines advocated developing potential youths as trade union leaders in the region "by involving them in decision-making process of the trade union movement."
Honkong Journalists Association President Chris Yeung presented the media atmosphere in Hong Kong within the 'one nation two systems' of China and Hong Kong.
"Youths are extremely busy these days. It is difficult to find young people to join the unions" Yeung said.
Nonoy Espina of the Philippines spoke about the digital impact on the traditional media in the Philippines leading to redundancy of journalists across the country.