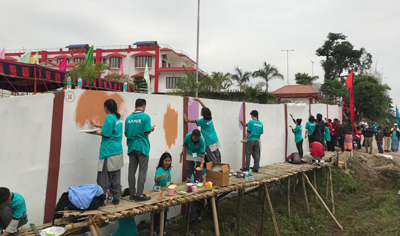 46th Arunachal Pradesh Police raising day
CHIMPU, Nov 5: As part of the 46th Arunachal Pradesh Police (APP) raising day celebration, the APP and the Arunachal Pradesh Police Welfare Society (APPWS) organized a mural painting competition at the police officers' mess here on Monday.
About 250 students from 25 schools and colleges are participating in the event. Each team has been allotted
a wall to paint on one of the three themes: 'Unity in diversity', 'Role of police in society', and 'Loss of culture is loss of identity'.
The event is being held at three locations – the PHQ, the officers' mess here, and the Police House in Vivek Vihar.
The initiative was lauded by the gathering as an innovative community engagement programme which would improve police-public relations and build an environment of trust.
Children from the Donyi Polo Mission for Visually Impaired and Hearing Impaired presented a welcome song, while the participating children could be seen painting with enthusiasm, undeterred by the rain.
Earlier, the programme was inaugurated by Sports & Youth Affairs Minister Dr Mohesh Chai, renowned author Mamang Dai, and Nandita Gopal, who put their handprints, dipped in paint, to depict leaves on a tree.
APWWS chief advisor Sushi Singh and DGP SBK Singh were the hosts of the event.