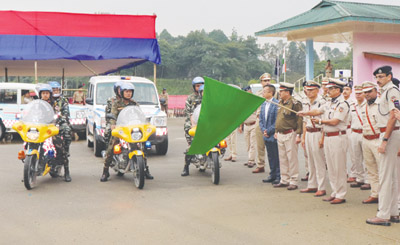 ITANAGAR, Nov 6: Director General of Police (DGP) SBK Singh flagged off three police motorcycles and four mobile vehicles from IG Park here on Tuesday for patrolling in the capital.
Addressing the gathering of police, ITBP and CRPF personnel, the DGP said the police department is being modernized in a phased manner under the leadership of Chief Minister Pema Khandu and Home Minister Kumar Waii.
He requested the police personnel to work dedicatedly for maintaining peace and tranquility and the wellbeing of the society.
Capital SP M Harsha Vardhan informed that the patrolling vehicles are equipped with GPS and emergency response items like first-aid boxes and stretchers for emergency situations.