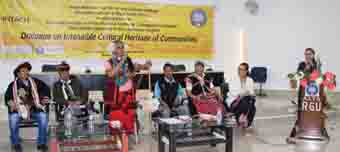 RONO HILLS, Nov 19: A two-day colloquium, 'Dialogue on intangible cultural heritage of communities', got underway at the Arunachal Institute of Tribal Studies (AITS) at the Rajiv Gandhi University (RGU) campus here on Monday.
The colloquium is organized by the AITS in collaboration with New Delhi-based Intangible Culture Heritage (ICH) Division of the Indian National Trust for Art & Cultural Heritage (INTACH).
Addressing the inaugural ceremony as chief guest, RGU Vice-Chancellor (in-charge) Prof A Mitra said that, in addition to its role as a provider of quality higher education, the university is also mandated in its charter to document and assist in the promotion of the rich culture of the tribes of the state.
Prof Mitra underlined the importance of organising such programmes along with academic works and research, and mentioned how collaborations with the communities are "essential to bring out more constructive output."
INTACH ICH Division Director Nerupama Y Modwel spoke on how maintenance of heritage and community memories are essential, and said steps to preserve and understand them should be taken seriously.
In her keynote address, titled 'Unseen but felt: This continuum of culture', renowned poet and professor at Delhi University, Sukrita Paul Kumar, encouraged all community members to embrace their traditions and appreciate their cultural heritage.
She also spoke about how the skills and knowledge of tangible cultures are an asset for any community "in order to bridge the emerging cultural disconnect, and to ensure continuity."
Earlier, AITS Director Prof Simon John said the idea of conducting the dialogue was to "engage with the communities and explore ways by which the intangible heritage can be protected and promoted."
The INTACH's Assam Chapter Convenor Dr Shiela Bora dubbed Arunachal "an anthropological museum," and stressed on integrating modernity with tradition, "so that cultural heritage will be kept alive and preserved in its beautiful and unique form."
A book titled Change and Continuity Among Tribes: The Idu Mishmis of Eastern Himalayas, edited by AITS Assistant Professor Dr Tarun Mene and Bhopal (Madhya Pradesh)-based Indira Gandhi Rashtriya Manav Sangrahalaya's Director Prof SK Chaudhuri, was released jointly by Prof Mitra and Idu Mishmi igu (traditional priest) Ache Mimi.
The book offers a comprehensive understanding of the post-colonial research trends on the Idu Mishmi community of Arunachal Pradesh. It covers issues pertaining to daily life, socio-cultural aspects and resource mobilization.
Various intangible cultural heritages will be discussed and methodologies for documenting them will be explored during the two-day colloquium.
The inaugural day's interaction was conducted by filmmaker Moji Riba, and the first session was moderated by Prof Jumyir Basar of the AITS. It witnessed ritual performances by shamans of various communities – Ache Mimi (Idu Mishmi), Tahor Muang (Adi), Geli Ete (Galo), Namgram Tama (Nyishi) and Khoangam Suyang (Nocte) – who also shared their personal histories and deliberated on the challenges faced by the traditional priests today.
Interactive sessions and demonstrations by artisans (wood carving and basketry) and Nyishi folk artists were moderated by AITS faculty members Dr Wanglit Mongchan and Lisa Lomdak. The participants spoke about the difficulties that they face in pursuing these dying traditional art forms.
An installation and demonstration of opo (traditional method of brewing), was followed by a presentation of the Kit Laam dance of the Rongmei Naga by Imphal (Manipur)-based Ragailong Cultural Songs and Dramatic Union.
Demonstration and interactive sessions with weavers, indigenous chiropractors, bead workers and Galo folk performance will be showcased on the second day. A crafts and weaves display was also a part of the event.
Some key features of the colloquium are discussion on the way forward for retention of the indigenous culture, interaction among CRPs on learning from each other, and suggestions on overcoming the challenges, that will take place on the second day.