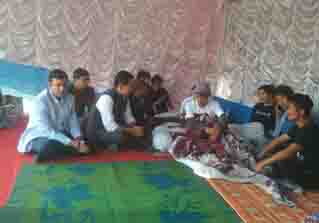 [Nellie N Manpoong]
ITANAGAR, Nov 20: Cabinet Ministers Bamang Felix and Dr Mohesh Chai met the protesting candidates of the Arunachal Pradesh Public Service Combined Competitive (Mains) Examination (APPSCCE) at IG Park here on Tuesday afternoon and appealed to them to withdraw their agitation.
Accompanied by Capital Complex Deputy Commissioner Prince Dhawan and Superintendent of Police M Harsha Vardhan, the ministers, who had arrived at the direction of Chief Minister Pema Khandu, heard out the grievances of the agitating candidates and appealed to them to withdraw the agitation in view of fact that the matter is sub judice in court.
They also appealed to Tater Gao, who reached the sixth day of his hunger strike on Tuesday, to withdraw from it.
The ministers said they would hold a cabinet meeting in this regard, but clarified that the Arunachal Pradesh Public Service Commission (APPSC) is a constitutional autonomous commission which functions independently.
"The state government has no authority to interfere in the commission's matters," they said, and suggested to the candidates to take legal measures if they feel there has been infringement of their rights.
However, the candidates were not convinced, and said they would continue with the agitation.
Speaking to this daily, a candidate said: "We wouldn't be protesting out in the cold if we could be fighting a legal battle in court. We want the state government to intervene because we have done all we can to convince the commission. The government should come to meet us only if they have a solution to our issue and stop asking us to withdraw from the protest."
She informed that the governor has agreed to meet a delegate of the protesting candidates on Wednesday.
Meanwhile, All Arunachal Pradesh Students' Union (AAPSU) vice-president (protocol) Mije Taku said the union would meet with the three sections of candidates – those who have appeared for the mains examination; those who are protesting; and those who are fighting in court – to hear out their grievances and come up with a solution.
He said the division among the candidates was created because of the commission and the administration, and appealed to the government to intervene.
The AAPSU would meet with the commission after hearing out all the three sections of candidates, Taku said, and urged the candidates to withdraw from the hunger strike.
In the meantime, the candidates continued with their candlelight vigil in support of Tater Gao and candidate Sukanti Mihu on Tuesday evening as well, and were joined by members of the AAPSU, the Arunachal Pradesh Women's Welfare Society and several other organisations and individuals.