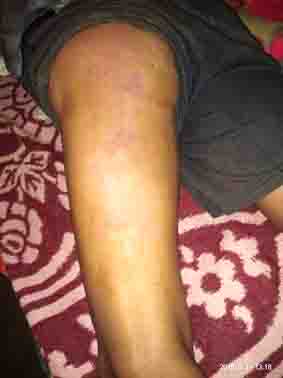 KANUBARI, Nov 20: Kanubari EAC N Borang has written to the Longding deputy commissioner, requesting him to look into the grievances of the villagers of Longkhojan regarding atrocity meted out to them by personnel of the Indian Army.
The EAC has submitted a report to the DC after having visited Longkhojan village on 19 November and having interacted with the villagers. In his report, Borang quoted the villagers as saying that the body of an NSCN (U) operative, identified as Kamchan Wangpan, a resident of Langkhaw village, was brought to the village on the evening of 14 November by some militants.
The EAC said the militants reportedly forced the villagers to carry the dead body up to Ranglua village or face dire consequences.
"As their lives were being threatened, they had to do the job, but refused to have any connection with either the dead body or the militants," the report said, adding that a case in this regard was registered at the police station here on 15 November.
"It is reported that on 18 November, a group of army personnel from Dhangrikumar in Charaideo district of Assam conducted a search operation in Longkhojan in the evening, without being accompanied by civil police and without informing the village chief and gaon burah," the report said.
It said the villagers alleged that the army personnel misbehaved with both men and women and used unparliamentary words during the search operation.
"Twenty-three persons were reported detained in the general ground the whole cold night without food, water and warm clothes," the report said.
"Former Longkhojan GPM Rankai Apesam and Longkhojan Baptist church pastor Lempo Wangjen were beaten with lathis and received injuries, while a woman was also said to have been beaten up by the army personnel and received minor injury," it added.
The detained villagers, it said, were reportedly released the next morning "only after obtaining seal and sign from the village chief and gaon burah on a blank paper."
Meanwhile, Apesam and Wangjen have lodged an FIR at the police station here, demanding action against the army jawans involved in the incident.
According to the FIR, "Twenty-three male villagers were forcefully dragged into the school playground and made us kneel down with folded hands and spent the whole night without food."
Wangjen and Apesam, the FIR said, were "beaten black and blue, and are currently undergoing medical treatment at the Kanubari CHC."
It said a woman, Phechom Apesam, also received injuries while trying to save her husband from being harassed.
Meanwhile, the Wancho Council, the Wancho Students' Union, the Longding District Students' Union and the All Wancho Women Welfare Society have jointly condemned the alleged brutality of the army jawans.
"Such and act of security forces is inhuman and a violation of human rights," they said.